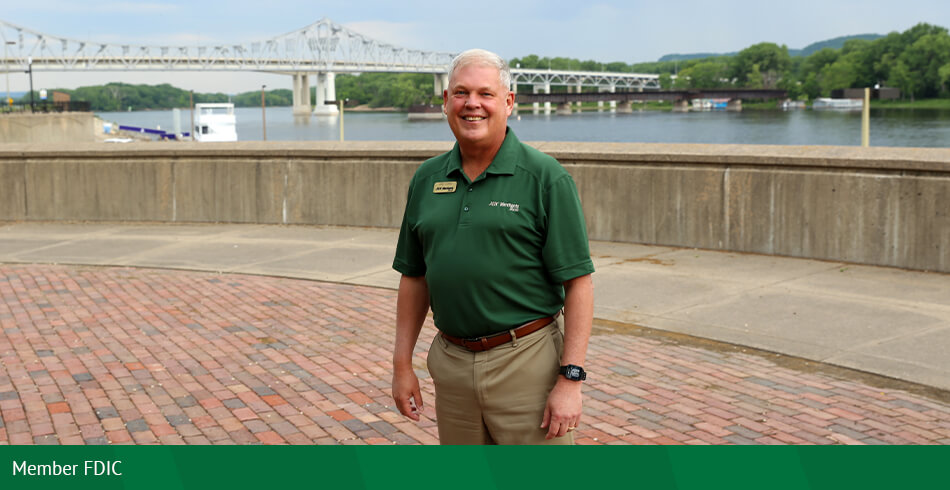 3rd Quarter Update with CEO Greg Evans
On July 17, Merchants Bank turned 147 years old. Winona was a young, growing, and bustling center of commerce and transport when Merchants Bank was founded in 1875 by a small group of independent small business owners (thus the "Merchants" name) as a bank for the working class (vs. the elite lumber baron class of the era).
We celebrated another anniversary without any fanfare, but the occasion and significance of our rich history is not lost on me. We're still here as a thriving community bank and strong contributor to the economic vitality of the broader region. I'm mindful of what has contributed to our longevity and success, and aware that long-term relevance is not guaranteed by our past.
I do believe that if we remain disciplined and focused on historic drivers of success we will continue to grow, thrive and survive in a consolidating industry that is facing intense disruption and increased competition from non-banks. From my seat, the most critical aspects associated with our rich history and future success include:
Mission Focused Purpose
One can only imagine the boundless hopes and dreams of the community leaders who started Merchants Bank. Thus, serving the community, leaders of commerce and working families has been in Merchants' DNA since 1875. When our customers and communities thrive, we as a community bank will too. Helping you realize hopes and dreams is our mission and remains our absolute calling.
Loyal Customers
Thank you for your business. We don't take for granted your trust and loyalty. We must work to earn it each day. Thank you for that opportunity and the privilege to serve you. I'm so proud to be surrounded by a tremendous and caring group of teammates who embrace what a privilege it is to serve.
Great Communities in Which to do Business
The same entrepreneurial spirit that was fostered in the early days of Winona is represented in the broader group of 19
communities
we have the privilege to serve today. The diversity of our markets and the strong work ethic so prevalent in the region contribute to a richness in where we get to live, work and raise our families. We continue to have a priority focus on commercial banking, because of how it drives economic vitality, job creation and quality of life for our communities. During the first half of 2022, we generated $261 million of new
commercial loan
activity throughout our market footprint. This compares favorably to pre-COVID "normal" business years of 2018 ($146 million) and 2019 ($171 million). The capital we provide for local businesses is a meaningful contributor to our local economies.
Adaptation and Innovation
During my 33 years with the Company, we have worked very hard to meet the changing needs of our customers. Never has that been more important than it is today. Over the course of the past two years, we have invested thousands of dollars in new technology and significantly enhanced our
digital solutions
to meet customers' needs and expectations. We also have an ambitious roadmap for continued digital enhancements over the course of the next two years, including two commercial
treasury management
solutions in the form of Integrated Payables and Commercial Center Delivery during the next quarter. Focus on innovation has also created strategic expansion of our business lines and diversification of revenue streams.
Resilience
For any business to survive as long as Merchants has, it must have strong disciplines to manage through economic cycles. Our focus on risk management and the diversification of markets, business lines, and our loan portfolio composition are contributors to our resilience. During the great recession of 2008 through 2010, Merchants was never out of the market for new business as many banks were, a testament to a strong credit risk management culture. We flourished during the most recent COVID economic cycle because of our commitment to residential mortgage lending and our quick adoption of the Small Business Administration Paycheck Protection Program as a tool to help hundreds of small businesses throughout the region. We are mindful of the current economic environment, inflation, and extreme market volatility. I'm confident that our consistent and prudent risk management approach positions us well to navigate through whatever economic cycle unfolds.
Financial Strength & Performance
We don't take long-term relevance for granted. When I joined Merchants in 1989, there were approximately 9,000 banks in the United States. Today that number is below 5,000. As the industry continues to consolidate, we know we must continue to earn our independence every day. Continued business growth, revenue optimization and earnings performance will allow us to continue to survive and enhance the rich history of community leadership of Merchants Bank. Our mid-year earnings performance for 2022 was solid with net income of $13.8 million. That exceeded our budget forecast by $3.35 million but was $4.3 million below 2021 earnings. Our financial strength, safety and soundness is a tremendous source of pride for all of us.
Local Ownership
Since we were founded, this Company has always been
owned
predominantly by Winona area families and business leaders throughout what is now our regional service footprint. Since 2001, ownership also includes all employees. Collectively employees own 18% of the Company through our Employee Stock Ownership Plan. Nothing has contributed more to our success than the loyalty represented in the form of local ownership. Our Shareholders understand the importance of having a strong community bank as a driver of regional economic vitality. Perhaps you are not aware that Merchants is public Company, traded through the Over The Counter (OTC) platform. While we are not SEC registered or listed on a major exchange, if you would have an interest in becoming a shareholder it as simple as connecting with any financial advisor, including those here at
Merchants Investment Services
. We would welcome your investment and support.
In closing
, your business relationship is an important contributor to our success. Our rich history has been built on our commitment to earn the trust of a customer base that has continued to grow. Thank you for being part of the extraordinary customer franchise we have the privilege to serve. Rest assured that will remain our mission to support your pursuit of hopes and dreams.