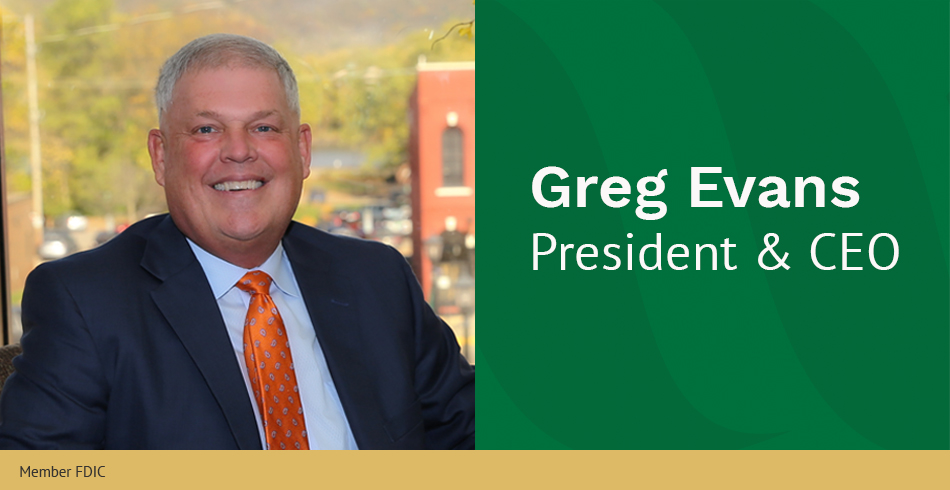 4th Quarter Update with CEO Greg Evans
We made it to after the election! I'm personally ecstatic! Not because I picked a side and that side won. I'm just super thrilled that when I turn on the television tonight, I won't be bombarded with political ads that do nothing but deceive, insult, distort, and perpetuate divide, anger and hate. If you're truly objective, you can't help but see the equal amounts of venom on the polar ends of both sides of the political spectrum. How did we get here?
I refuse to get political, but I can't help but pin a lot of this on a total erosion of the value of trust in our society today. Just what is trust? It's no surprise to me that the dictionary definition pegs it appropriately as an
assured reliance
…
on character…on ability…on strength…on truth.
Nobody is entitled to a position of trust. Nor are any institutions. Trust and assured reliance must be earned. If assured reliance is dependent on things like character, ability, strength, and truth, is it any wonder that so many institutions in our society have, in fact,
earned a reputation of mistrust?
Unfortunately, it often takes years to earn a reputation and position of trust, but it can be destroyed in the blink of an eye. There are very powerful examples of how that has occurred with institutions like government, media, education, corporate America, big labor, and, yes, banking, just over the course of the past few months. And, it's human nature to view all institutions through a biased lens based on our unique life experiences and perspectives.
At Merchants Bank, we are intensely focused on the need to continue to earn your trust each and every day. I know we are not perfect. I know sometimes we may fall short. But, we are intentional about living out defined core values like honesty, integrity, mutual success, community stewardship, and teamwork. If our entire team of 450 people is working together to represent these values, it's our sincere hope that we can continue to earn from you
assured reliance…on our character…our ability…our strength…our truth.
There's no secret that these are extremely volatile economic times. We have very high inflation. Interest rates are rising faster than anybody probably expected. The stock market has been extremely volatile and will likely continue to be. The interest rate yield curve is inverted, creating challenges for all sectors of the financial services system. Consumer credit card debt reliance is growing. Some economists believe we are already in a recession, while others predict a recession is inevitable in 2023. In any case, economic expansion has certainly slowed since the short-lived rebound from pandemic depths in recent months.
So, what does any of this have to do with trust?
Now is a great time for you to adapt to the environment of economic uncertainty by being mindful about and embracing these important fiscal fitness disciplines:
Make sure you have advisors you can trust. Whether it be with professional members of the Merchants team or elsewhere, develop a strong sense of confidence that the people advising you on financial matters have your best interests in mind.
Pay yourself first. A critical foundation of any strong approach to financial management is making a savings strategy a priority. At Merchants, we can assist in numerous ways based on your personal needs…with both FDIC-insured banking deposit products and also with access to alternatives through the wealth management channels of Investment Services and Trust.*
Borrow wisely. When it comes to financing options that may be appropriate for achieving hopes and dreams (a new house, starting a business, a dream vacation, for example), borrowing money in a disciplined manner is critically important. Working again with a trusted advisor who is willing to challenge you and be transparent about the challenges that come with taking on too much debt is the type of approach that will allow you to make well-informed decisions as it relates to credit.
Protect your information! In today's age of e-commerce and the continued digitization of banking solutions, we have unbelievable convenience in accessing financial services and solutions. With this convenience comes increased risk associated with the protection of your private personal information. Be diligent in following important security protocols advised by your providers. If something seems strange about a request for private personal information, assume that it probably is. Be cautious and diligent in verification anytime you are asked for information related to your private identity or your financial affairs. If you are ever unsure about a situation, please reach out to your trusted financial partner. We are always happy to help.
It's my sincere hope that we can continue to earn your assured reliance on …our character…our ability…our strength…and our truth. We know and embrace that as a very high standard. But, I also have tremendous confidence in the members of the Merchants team who are embracing the daily pursuit of that trust standard. We don't take you or your business for granted. It's truly a privilege to be favored with your business and serve as one of your trusted advisors.