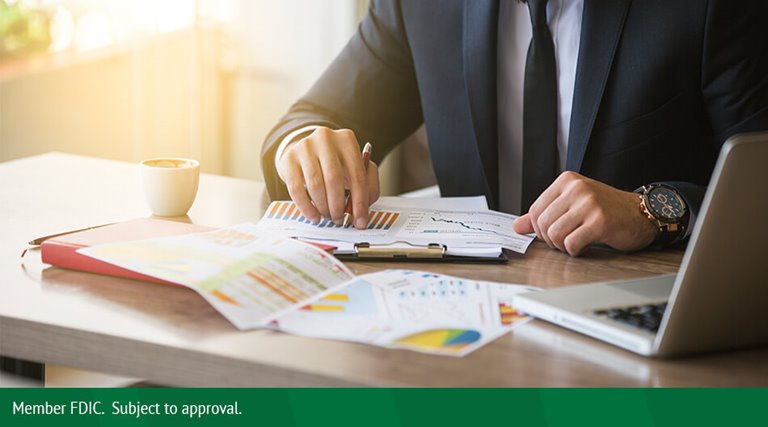 Behind the Scenes With Our Credit Team
If you've worked with Merchants on a loan for your business, you know our Commercial and Ag Bankers have a team of people assisting them in the loan process. You may have even heard them mention a Credit Analyst, who would review your financial information.

Our Credit Analyst team plays an important part in the loan approval process. So we're giving you a behind the scenes look at their role and what kind of expertise they bring to our Commercial & Ag banking team.
How is a Credit Analyst involved in my application for a business loan?
Our team of Credit Analysts assist in reviewing your credit profile and determining overall ability to pay back a loan. Upon application, your financial information is provided to a Credit Analyst, who reviews all the details and prepares a credit presentation for review by your Commercial or Ag Banker.

"Our job is to assess repayment capacity of total credit obligations and determine overall financial risk to you and the bank. This information helps the Commercial or Ag Banker decide on next steps," said Mike Streiff, Credit Administration Manager. "Our ultimate goal is to help the borrower achieve their financial goals from borrowing, but we also need to identify potential risks to the business – that's why we review so many details about the business and business owners. We look at the full picture to create our report to the Commercial or Ag Banker."

In some instances, you may also meet with one of our Credit Analysts and a Commercial/Ag Banker to collect your financial information. A face-to-face conversation is sometimes the best approach to obtaining all the details needed to gain a full understanding of your business.
What expertise does a Credit Analyst bring to the business banking team?
Most of our Credit Analysts have an accounting or finance degree and/or related job experience. In addition, they are well-trained on all different types of credit to be able to fully assess your business's situation. Day in and day out, they work with the financial details of businesses of every size and industry – their incredible depth of knowledge is an asset to you, your Banker and the entire commercial banking team.

Because Merchants Bank provides many loans for agricultural businesses and farms, a handful of our Credit Analysts specifically concentrate on ag requests. Having grown up on farms or worked on farms, these Credit Analysts provide an additional level of expertise and insight when reviewing an ag loan.
How do I benefit from a Credit Analyst reviewing my loan application?
Talking with your Commercial or Ag Banker and Credit Analysts can give you more insight into the financial side of your business.

While gathering your financial information, the Credit Analysts may ask questions your business might not have ever considered. Or, the Analysts might even pinpoint some financial areas where your business could make improvements by working with your accountant or in-house finance department. In addition, tapping into the Credit Analyst industry-specific knowledge can be a bonus for your business.

"We're here to provide an additional level of financial understanding and support to both the business and the Commercial/Ag Banker," said Streiff. "It's our job as part of the commercial/ag banking team to help our business and Ag customers thrive."
To learn more about business financing options at Merchants Bank, visit our website: