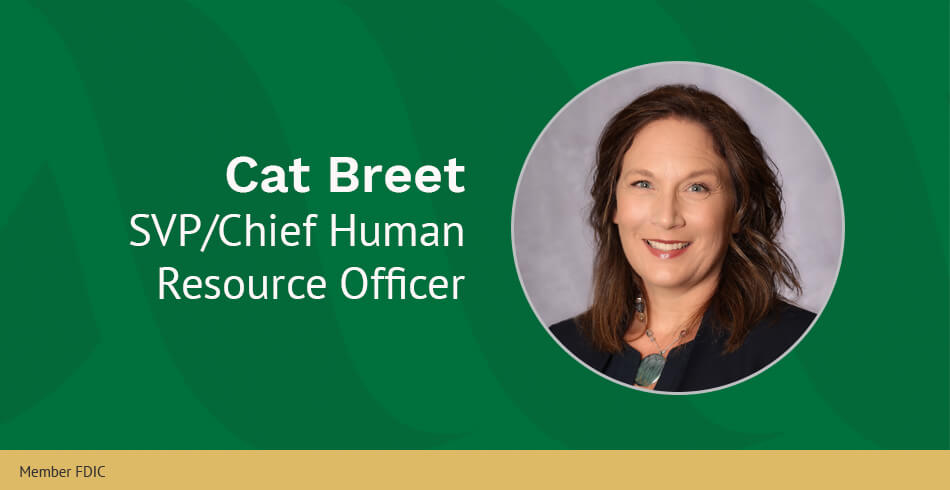 Catherine Breet Named New Human Resources Leader at Merchants Bank
Merchants Bank has named Catherine "Cat" Breet as its new Senior Vice President/Chief Human Resource Officer, according to Greg Evans, President & Chief Executive Officer. Breet will serve as a member of the Company's
Executive Leadership team
and succeeds Beth Ede who retired on July 1.
"Cat has a unique set of core competencies that are perfectly aligned with the significant strategic focus we place on talent management, employee engagement and workforce development," said Evans. "Our service culture and extraordinary employee team create the solid foundation for our success. In her role, Cat will serve as the gatekeeper of our culture and her leadership strengths will allow us to build on that foundation."
Breet has more than 20 years of experience in Human Resources (HR), spending the last 16 years running her own career guidance and HR consulting company, ARBEZ. As President, Breet was responsible for all business operations in addition to consulting work, which included several clients in the financial services industry. During her tenure at ARBEZ, she had more than 1,000 guest speaking engagements and self-published seven online courses for job seekers and consultants. She brings proficiency in HR strategic planning, operations, recruitment and retention, leadership development, culture work and compensation planning to Merchants.
"When I worked with Merchants on a project last summer, I was blown away by Merchants' level of integrity and passion for its employees, customers and community," said Breet. "I am thrilled to have the chance to contribute to the tradition and culture of this organization and look forward to sharing the Merchants' story with my family, friends and network."
Breet attended Longwood University in Virginia where she received a Bachelor of Arts degree in Sociology. She has served on numerous boards, including the Gustavus Wellbeing National Advisory Board and the Easter Job Transition Group. She is looking forward to becoming an active volunteer in the Winona community. She and her husband Stefan have two sons and will be relocating to the Winona area soon.
Merchants Bank
is a full service community bank with 23
bank locations
in southeastern Minnesota and west-central Wisconsin and a leasing division,
Merchants Bank Equipment Finance
, in Edina. Headquartered in Winona, MN, MFGI has more than $2.7 billion in assets. Merchants was founded in 1875.