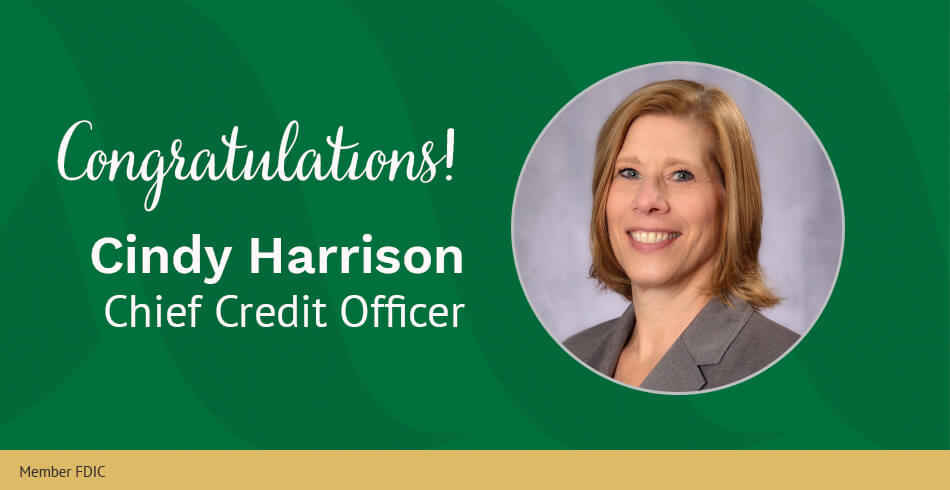 Cindy Harrison Promoted to Chief Credit Officer for Merchants Bank
Cindy Harrison has been promoted to Senior Vice President/Chief Credit Officer at Merchants Bank, according to Greg Evans, President & CEO.
Harrison succeeds Mark McGrory, who retired in May after a 35-year career with Merchants. She will be a member of the Company's
Executive Leadership Team
and oversee all credit operations for the Company.
"Because of Mark's leadership, our credit culture and unwavering commitment to being partners in our customers' success is an absolute area of strength," explained Evans. "We take great pride at Merchants in our commitment to growing our people and promoting from within. Cindy has been a strong contributor in influencing the credit culture of the organization under Mark's mentorship throughout her career, and she earned this opportunity because she was the most qualified candidate."
Joining Merchants Bank in 1992, Harrison started in the Commercial Loan Department as a Secretary/Lending Assistant. She was promoted to Commercial Banker in 1995 and spent 15 years working directly with business clients in that role. In 2010 she became Credit Administration Manager, overseeing the mortgage underwriting, credit analysis and credit support teams for the Bank. She was promoted to Director of Credit Administration in 2019.
"I am committed to continuing the strong credit culture Mark cultivated at Merchants and feel fortunate to have this opportunity to follow in his footsteps," shared Harrison. "It's rewarding to keep growing in my career as part of an organization that truly cares for the community, its customers and employees."
Harrison earned a Bachelor of Science in Business Administration from Winona State University. She is also attended the Graduate School of Banking at the University of Wisconsin – Madison. Harrison lives in Winona with her husband, Jeff.
Merchants Bank
is a full service community bank with 23
bank locations
in southeastern Minnesota and west-central Wisconsin and a leasing division,
Merchants Bank Equipment Finance
, in Edina. Headquartered in Winona, MN, MFGI has more than $2.8 billion in assets. Merchants was founded in 1875.