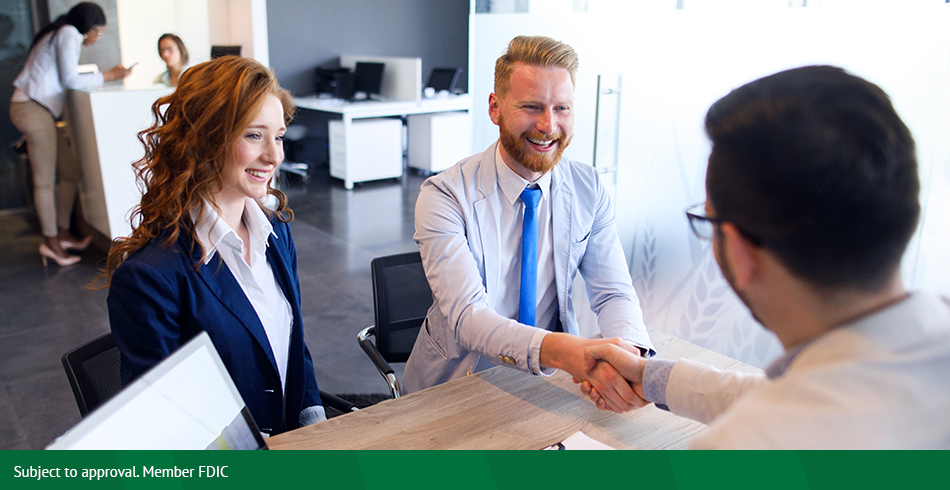 Commercial Lending: It's About More Than Easy Money
Written by Greg Evans, President and Chief Executive Officer
I was at a community networking event one evening last week that included a group of upper-level College of Business students from Winona State University.
"How hard is it to get a business loan?" they asked.
Great question. One I get all the time.
That depends. How hard is it going to be to pay it back?
Not complex stuff, really, but far from easy in practice.
For entrepreneurs looking to start a new business or experienced business owners looking to finance growth and expansion, there really has never been a better time to borrow money. Interest rates remain at historically-low levels. Most commercial banks have fully recovered from any credit problems lingering from the recent great recession. There is plenty of liquidity in the banking system, and banks are hungry to add good quality loans to the balance sheet.
The fact is that commercial banks are in the business of making loans. The change in the regulatory environment that resulted from the recession has, perhaps, created some additional challenges but by in large solid borrowers will have choices in selecting a lender. The institutions serving the Seven Rivers Region, including Merchants Bank, are predominantly community banks and are eager to provide more loans to drive economic growth in our Main Street communities.
So, with plenty of money supply to meet commercial credit demand, how should a business owner go about choosing the right banking partner?
I would recommend looking for a banker comfortable playing the role of a trusted adviser, willing to take the time to fully understand your business and drill into the question, "How hard is it going to be to pay it back?"
For us at Merchants, commercial banking is a relationship business. When we evaluate a loan request, we are diligent in our underwriting of the transaction itself. But, we are far less interested in the single piece of here-and-now business than we are in developing a complete understanding of the total operation and being able to deliver a full suite of business banking solutions that set up a business owner for long-term success.
When I think about our best business customers, clients that immediately come to mind are those trusted relationships that have been shaped over years, even decades. I would like to think that these valued long-standing relationships are the result of one of our bankers starting with this end in mind way back when.
When a commercial lender meets with a prospective new customer, the most important consideration ought to be, "how are we going to meet this customer's needs … not only today… but well into the future." In the same manner, it's advisable for the business owner to be thinking in terms of finding a partner who can become a trusted advisor for the long haul. That type of relationship isn't forged overnight, but there are behaviors that should be evident early on to warrant the level of trust that a business owner places in a banker.
Any seasoned banker should articulate that credit underwriting will be governed by the fundamental assessment of the "5 Cs" of credit (character of the borrower, market conditions, collateral pledged as a potential secondary source of repayment, capital generally understood as "skin in the game" and capacity). In banking today, capacity – a company's ability to absorb and repay debt – should be embraced as most fundamentally important because it reflects significantly on the viability of the business itself. Cash is what repays loans, so cash flow of the business is the best source of repayment. In addition to the fundamentals, any banker should be successful at demonstrating the following to a prospective borrower:
Responsiveness – business credit underwriting necessarily requires some time, but find a banker who keeps you well informed throughout the process and is available to you regularly
Integrity – having a trusted relationship isn't optional; the ability to earn a high degree of trust is the price of admission for any banker deserving of the opportunity to become your banking partner
Thorough underwriting – scrutiny associated with credit requests should be embraced as part of the process if a banker is truly serving the best interests of the business; fundamental review of financial information, projections, business plans, etc., is necessary for everybody to feel a high degree of confidence that the debt can be serviced
Experience and knowledge – business owners should have an expectation that their business banker will bring a value-added component to the relationship; familiarity with specific industries and credit cycles is something you should ask your banker about to be confident about the banker's ability to meet your needs for the long haul
At Merchants Bank, we strive to deliver on that formula in meeting the needs of our business clients. Our bank locations are small enough where our staff can know the name of each person who walks through our door. At the same time, our strength with $1.5 billion in assets allows us to deliver to the market all of the resources required to meet the financing needs of virtually any business in southeastern Minnesota and west-central Wisconsin. It's a beneficial combination for our business clients.
I know every bank suggests it stands apart because of the personalized service it delivers and the quality of its bankers. Sometimes that's true, but put your bank and banker to the test. Look closely at the expertise and passion of the employees. Are they responsive? Do they truly understand your business and your needs? Do they know what they are talking about? Do they care? Are they professional? Can they be trusted to say "no" when that answer truly serves your best interest and the interest of your business?
There is a good deal that goes into commercial lending, and this really only touches the surface. For any business owner, having a banker that can meet those standards is probably more important than the pricing, terms and conditions of any loan package. If you're looking for a successful formula, do your homework and find that kind of banker. Then, build a long-term relationship.
Loans are subject to credit approval.