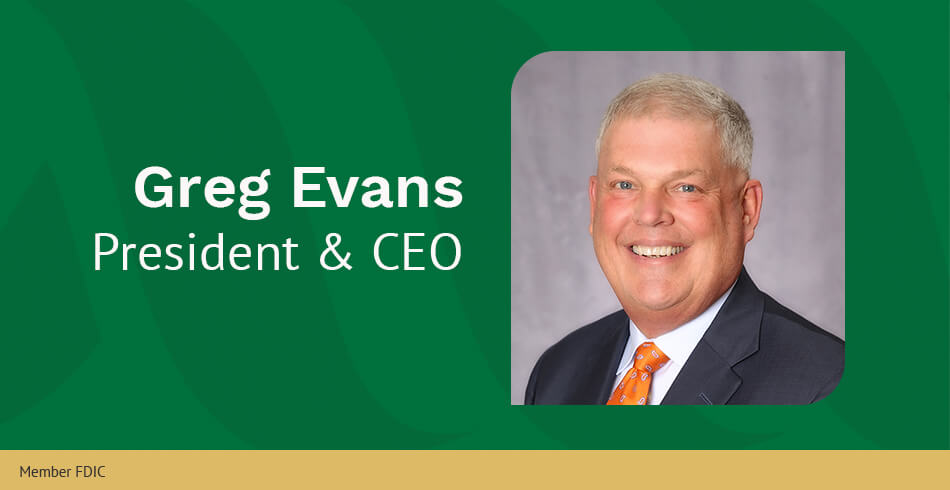 Company Update from CEO Greg Evans - March 2022
Spring is here and with that for me comes the same sense of optimism and hopefulness that I had a year ago.
I never imagined that 2021 would play out as a mirror image of 2020 in terms of COVID. Today, while we seem to have taken a positive step forward with the health pandemic, we are unfortunately impacted by global forces in many forms that are, for good reason, causing anxiety and fear. I am confident we will respond with tremendous strength and resolve.
Despite the presence of persistent challenges, 2021 was an extraordinary performance year for Merchants Bank. Our earnings performance of $28.8 million was the result of intense focus on our customers' and communities' hopes and dreams. Most of our revenue growth came from two primary areas of meeting customers' needs:
Aggressive participation in the Small Business Administration Paycheck Protection Program (PPP), which continued to provide a vital lifeline for hundreds of our Main Street businesses and has allowed small business owners to adapt and survive during these troublesome times.
Residential mortgage loan origination activity of $835 million during the past year. Over the course of the past two years, our team has made the dream of home ownership come true for hundreds of families by funding more than 8,000 loans for a total of nearly $1.9 billion.
I couldn't be prouder of the Merchants Bank employee team, who continued to provide exceptional service to our customers in a stressful environment, while also dedicating thousands of volunteer hours in our communities. Our consistently strong financial performance is what gives us the resources to contribute to the economic vitality of our communities, and it's gratifying to report that the financial strength of this company has never been better.
Being a Good Neighbor
Clearly, we all must remain vigilant in doing our part to prevent continued re-surge of the virus. We have followed our COVID protocols with intense discipline for two years, and I am so very proud of the professional approach the members of our team have demonstrated in the effort to keep our customers, friends and neighbors safe. I'm lucky to have caring teammates.
We recently eased mask-wearing requirements for employees in our office locations. That said, we will continue to respect the personal preference of all stakeholders. If your service preference is for a Merchants employee to wear a face-covering while serving you, please simply make a polite request in that regard.
As we again make this transition with the hope of it being a more permanent return to normal, we at Merchants will collectively embrace added responsibility, accountability and ongoing care, concern and respect for those we work with and have the privilege to serve. We invite you to join us in being good neighbors out of respect for the health and safety of all.
An Unfortunate "War" on Vulnerability
The world we live in obviously remains unsettled. Russia's physical military invasion of Ukraine captures most of the headlines, but I would encourage you to pay close attention to the uptick in news concerning cyber warfare and the likely continued escalation of information security attacks. The fact is that perhaps the most important "battlefield" of this "war" is playing out in the financial services industry because of the economic sanctions against Russia, which are being deployed as the most critical deterrent and counter-attack.
Russia and other fraudsters are preying on this unsettled environment. Unfortunately, we have experienced increased fraud being perpetrated with customers, and it's the most vulnerable of folks – often seniors – who most frequently find themselves as innocent targets and victims. Please know that nobody from Merchants Bank or our approved vendors will ever send you an unsolicited text or initiate an unsolicited phone call asking you to provide us with a debit or credit card number, an account number or detailed account information.
We know trust is the foundation of your relationship with our Bank. For that reason, our employees take great care and concern in protecting your private information. Please be vigilant in embracing caution with all financial accounts with any provider. If something seems suspicious, err on the side of looking for a cross-check option. If you have any questions or concerns, don't hesitate to reach out to your most trusted advisor on our team and ask about ways we might help prevent you from being a fraud victim.
In closing, please know we consider it a privilege to serve you, many of your friends and neighbors, and our communities. We know when it comes to your financial needs, you have dozens of options. We're grateful for the choice you've made to have Merchants as a partner. We're committed to helping you achieve your financial hopes and dreams. Thank you for your business and loyalty as a Merchants Bank customer.