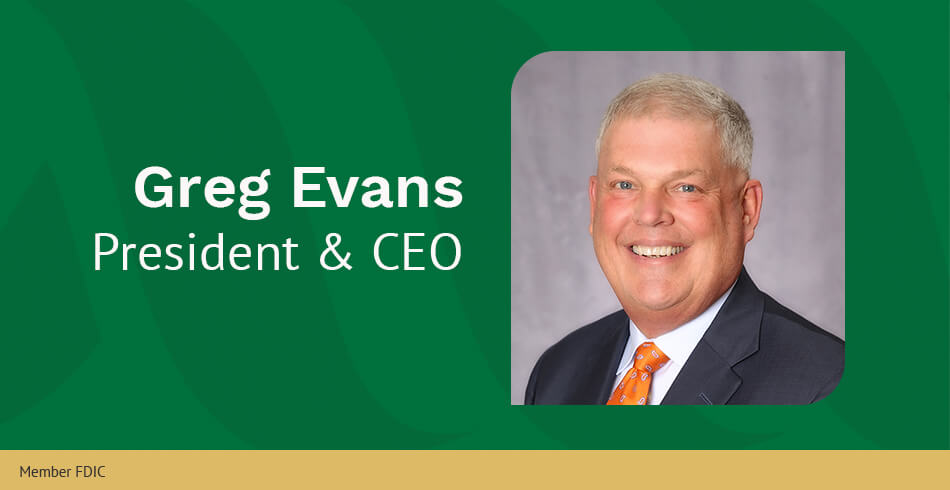 Company Update from Greg Evans, CEO: 2nd Quarter, 2021
During the past month, I have had the true privilege of being able to participate in in person gatherings, celebrations and fund-raising events for Winona State University, Winona Health, Winona's Steamboat Days, Habitat for Humanity, and the Minnesota Bankers Association.
It has never felt so good to have my personal calendar filled up with community engagement activities. It is simply wonderful to be back enjoying the people and organizations who make our service footprint such a special place to live, work and play.
Back to Seeing Smiles in Our Lobbies
In early June, we also celebrated a milestone at Merchants Bank by re-opening all of our physical branch locations to normal activities. After the long and arduous journey of the past 15 months, it is our genuine hope and intent to stay this way.
Thank you for the understanding, patience, and adaptability you have demonstrated with your banking relationship throughout the pandemic. Obviously, all of us faced significant challenges as part of the experience. I'm tremendously proud of the members of the Merchants Bank team for embracing the challenges as opportunities and working unconventionally to meet the needs of our business customers.
Community banking is a people business. When our customers enter one of our branch locations, it's the people willing to help and serve that they come to visit. While we know our customers now expect the convenient utility of a broad array of digital solutions, the team of bankers at Merchants remains grateful for the opportunity you give us to serve as trusted advisors when you need us. Thank you for favoring us with your loyalty.
Working Through Challenges
One gathering last month that was extra special was my time at the Minnesota Bankers Association annual meeting, when I had the privilege to network with dedicated community bankers across the state. The challenges we faced at Merchants during the past year were the same challenges all banking organizations had to deal with. The industry responded so effectively to those challenges and never wavered in the collective commitment to meeting the emergency needs of our clients and communities throughout the pandemic.
In addition to loan payment deferments and grants that the industry mobilized to provide in support of all customers and communities, the community banks of Minnesota mobilized aggressively and expediently in delivery of Small Business Administration (SBA) Paycheck Protection Program (PPP) loans in effort to support our small businesses and stabilize local economies.
At Merchants, we continued to support the PPP program throughout the first half of 2021 as new funding became available. We originated approximately $80 million in additional PPP loans to our local small businesses during the latest round of funding, which was expanded by the SBA and allowed us to focus more aggressively on helping sole proprietors (including farmers) who deservedly qualified for assistance. Our total PPP origination activity over the course of the last year was more than 3,000 loans for a total of nearly $300 million in origination volume. We now are focused on helping our borrowers and small business owners work through the application process necessary to obtain loan forgiveness.
Recent travel for both business and personal reasons has allowed me to interact with proud small business owners and operators in several different parts of the state. The resiliency of these drivers of our local economies has been amazing. The pandemic undoubtedly took a real toll on virtually every business in some manner. The stimulus that business owners benefitted from along the way was a source of modest stability, but everybody I talk to is eager to get back to business as usual while being cautiously optimistic about the future.
Thank You
The best part of being a community banker is the opportunity to work with business owners and community influencers like you. You and your teams are what make our local economies strong and vibrant. Supporting your hopes and dreams with the financial solutions we offer is what makes this profession especially rewarding to me. Thank you for your resiliency. Best wishes for a healthy rebound as we all transition into whatever our "new normal" is destined to be. Have a great summer, and I sincerely hope our paths will cross at an upcoming community event!