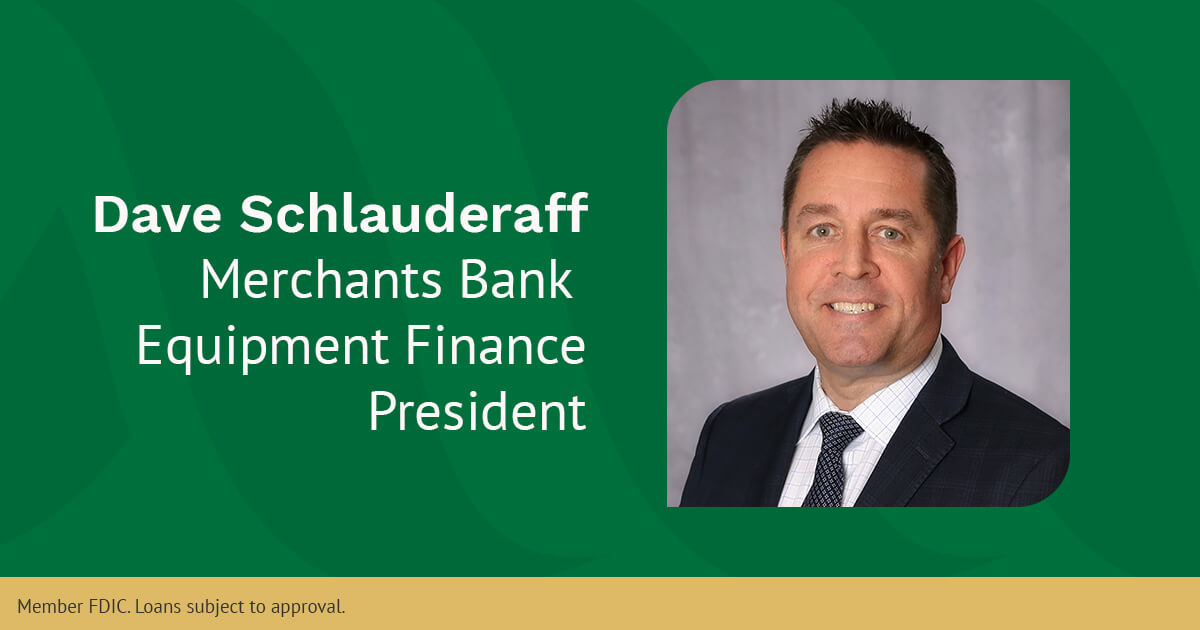 Dave Schlauderaff to Lead Merchants Bank Equipment Finance
Dave Schlauderaff has been named President for
Merchants Bank Equipment Finance (MBEF)
according to Greg Evans, President & CEO for Merchants Bank. Schlauderaff succeeds Rick Barry who retired from Merchants in December.
"Dave has worked in equipment finance his entire career and brings broad industry expertise to Merchants and the business clients and vendor partners we serve in this highly specialized area," said Evans. "I know he will be a tremendous asset, bringing great leadership ability to our equipment finance team and in helping us strategically grow this line of business."
Schlauderaff has been with U.S. Bank since starting his banking career in 1998. For the past 24 years he has specialized in equipment finance, serving customers and providing leadership for sales teams. He most recently served as Vice President/Regional Sales Manager for the Capital Equipment division of U.S Bank Equipment Finance.
"I'm so excited to be part of the Merchants Bank family and follow in Rick's footsteps with this well-established and successful
team
," said Schlauderaff. "It's a privilege to get a chance to leverage my years of experience in a new, challenging role within Merchants' community banking model."
Schlauderaff is a native Minnesotan and graduated from Concordia College in Moorhead with a degree in Business Administration & Communications. He and his wife Dana live in Lakeville with their three children and he is actively involved as a volunteer for Lakeville youth and high school programs. In his free time, he enjoys golf, his kids' school activities, and family vacation time in northern Minnesota.
MBEF primarily provides equipment lease and loan financing options to businesses throughout the U.S., financing tangible assets over terms of two to ten years on equipment with values generally ranging from $50,000 to over $10 million. Located in Edina, MN, the MBEF team serves many industries including construction, transportation, healthcare, manufacturing, food and agriculture.
Merchants Bank
, the parent company for MBEF, has 23
locations
in Minnesota and Wisconsin, more than $2.6 billion in assets and is one of the largest independent financial organizations in its region.