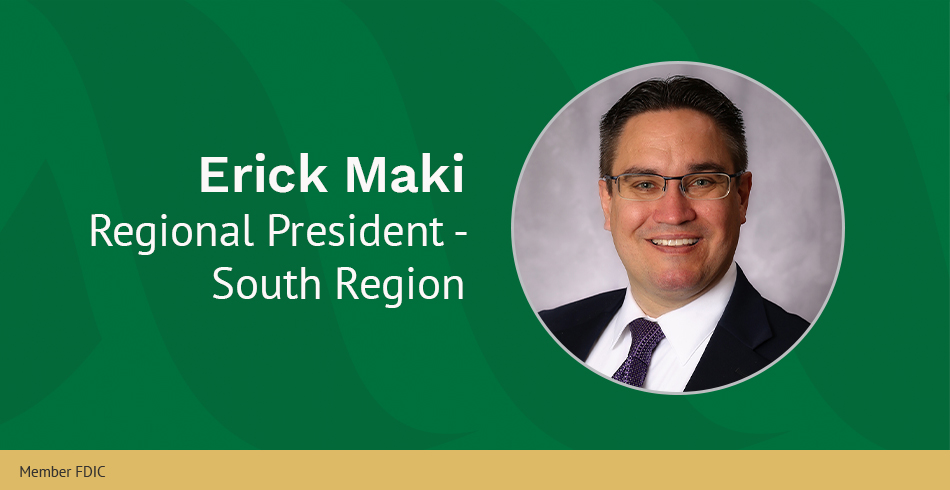 Erick Maki Joins Merchants Bank as Regional President
Erick Maki has joined Merchants Bank as Regional President-South, according to Greg Evans, President & CEO.
Maki will be a member of the Company's
Executive Leadership Team
and provide strategic direction for Market Presidents and strong banking teams in the Bank's Minnesota communities of Caledonia, Lanesboro, La Crescent, Rochester, Rushford, Spring Grove and St. Charles, as well as the location in Onalaska, WI where Maki will be officed.
"We are thrilled that Erick made the choice to join our team," said Evans. "He has proven to be a difference maker throughout his career, with a passion for meeting the needs of customers and co-workers. He also brings to Merchants a strong reputation for being actively engaged in community activities and will work with our teams to build on our position of strength as an engaged business leader in the communities of our South Region."
Maki brings more than 20 years of experience in banking and sales to Merchants Bank, including the last five as Market President for Bremer Bank in La Crosse. He was Vice President of Commercial & Nonprofit Banking at Bremer for 10 years before his tenure as Market President. His career has come full circle since working as an Intern for Thrivent Financial in Winona while attending college at Winona State University (WSU), then spending 16 years in the financial industry in the Twin Cities Metro area and finally returning to the Coulee region in 2017.
"One of the main reasons I wanted to join Merchants was the opportunity to be part of a community-minded, local organization," noted Maki. "The culture, focus on local and overall community banking philosophy all stood out to me as well. I'm looking forward to supporting my co-workers and the important work they do serving customers and community members."
Maki earned a Master of Business Administration (MBA) from Saint Mary's University in Winona and a Bachelor of Science in Finance from WSU. He currently serves on the Board of Directors for the Three Rivers Community Action Partnership. He is also an active volunteer and member of many organizations in the area, including Downtown La Crosse Rotary, the West Salem Hockey Association and Our Saviors Lutheran Church. Maki lives in La Crosse with his wife, Jennifer, two children and their dog.
With Maki joining the Merchants team, the Bank will have three Presidents reporting to Evans – Maki, Regional President-South Region; Dan Massett, Regional President-North Region and Andrew Guzzo, Chief Banking Officer & President-Winona. Each region is supported by Market Presidents who have decision-making responsibility for their local market(s).
Leading Merchants' locations in the South Region are: Larry Bodin in
Onalaska
and
La Crescent
, Matt Schuldt in
Caledonia
and
Spring Grove
, Jarett Jones in
Rochester
, and Ken Graner in
Lanesboro
and
Rushford
.
Merchants Bank
is a full service community bank with 23
bank locations
in southeastern Minnesota and west-central Wisconsin and a leasing division,
Merchants Bank Equipment Finance
, in Edina. Headquartered in Winona, MN, Merchants has more than $2.8 billion in assets and was founded in 1875.