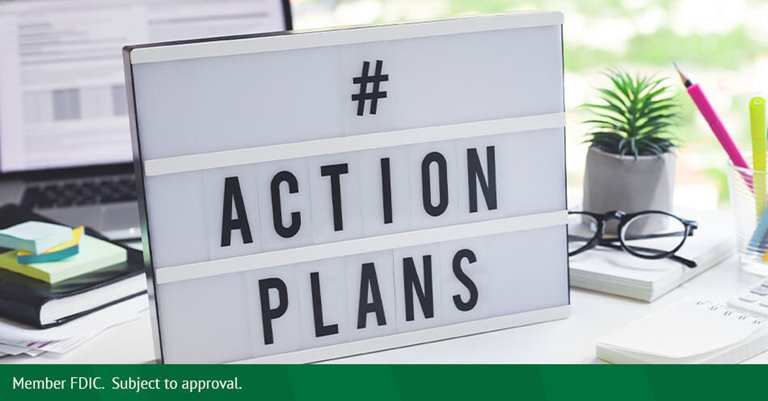 Get Your Business in Gear for the New Year
Education
Business
| 12.07.2022
The new year can mean many things for your business. What will the next 12 months look like? Do you have goals for your business and how you plan to get there? Now is the time to review your past financial performance and make plans for the upcoming year.
With this in mind, we've put together five financial New Year's resolutions to help your business make this one of the best years yet.
1. Review Last Year's Financial Highlights
How did your business perform this past year? At the most basic level, you should review your business income, expenses, profit and sales.
In addition, ask yourself these questions:
How do these numbers compare to last year? Are they better or worse and by how much?
Do these numbers align with my business projections for the upcoming year? Why or why not? Are there new income or expenses that should be accounted for?
In what area(s) of my business did I see the most growth?
What lessons can I learn from last year's business data?
2. Set New Goals
Goal setting does not have to be complicated, especially now that you've taken the time to review key numbers from the past year.
It's as simple as writing down 2 or 3 things you'd like to see your business achieve this year. It could be a goal to reduce expenses in a certain area, to produce a new product or hire additional expertise.
The most important part about goal setting is to be specific so you can measure your success throughout the year. Attaching time frames, numbers, steps it will take to meet your goal and other details can help you know if you're on track or not.
Once you've established your goals, here's a fun way to keep them top of mind from the SCORE business blog.*
3. Update Software and Processes
Payroll and other business processes can be affected by the change to a new year. Make sure your systems are up-to-date and ready for the new year. It's also a great time to review your security protocol and procedures, especially if your business collects personal information from your customers.
4. Check in With Your Business Team
Catch up with your accountant, tax advisor, lawyer and banker at the beginning of the new year. Communication between you and your team of expert advisors can be crucial to your business's success. After all, they want your business to succeed just as much as you do.
"During this time of the year, I like to check in with my business customers and see how they felt about the past year's performance and what's on tap for the upcoming year," said Mike Swanson, Commercial Banking Officer in Hastings. "For example, what went well for them last year and what didn't? Are there any new opportunities or internal changes coming? It's about keeping the lines of communication open, so I can provide the best solutions going forward."
As you share your upcoming business plans, your team can also provide updates on things that may affect your business. For example, there may be new taxes or loan programs, changes to business laws and much more.
5. Celebrate Small Successes
We've saved this resolution for last, but it's certainly one of the most important – you deserve to celebrate your business's successes. Being a small business owner can feel like a never-ending job, so take a minute to give yourself (and your team) some kudos. Celebrating small successes are the steps to celebrating larger ones!
Our team of Commercial & Ag Bankers and Treasury Management Specialists are ready to talk about your business plans. Visit our website to meet our local experts.
*By clicking above you will be linking to another website not owned or operated by Merchants Bank, NA. Merchants Bank, NA is not responsible for the availability or content of this website and does not represent either the linked website or you, should you enter into a transaction. We encourage you to review their privacy and security policies which may differ from Merchants Bank, NA.