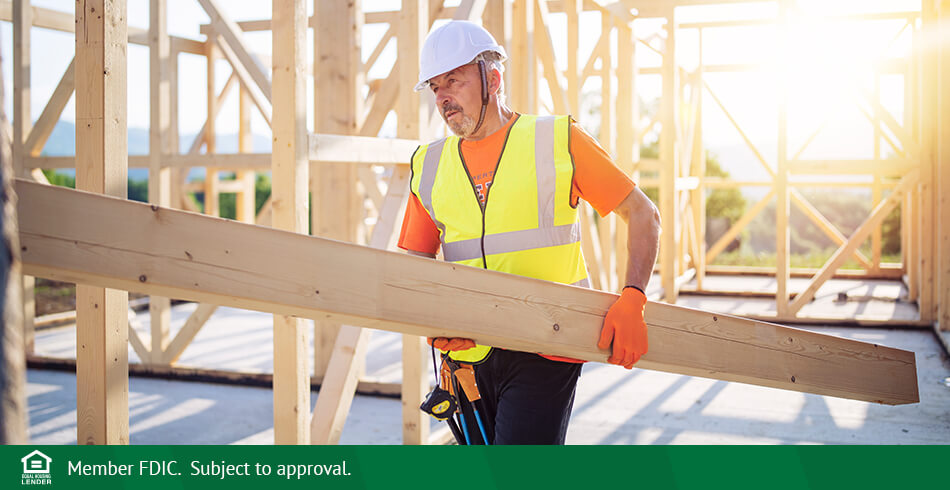 Home Construction Loans: The Basics
Home and Family
| 04.27.2022
Not finding the home for you? Or have you always dreamed of building your own home, but you aren't sure where to start? Follow this easy guide to learn the basics of construction loans.
What is a construction loan?
A construction loan is a loan used to pay for the cost of building a new home. When construction on your house is complete, you'll need to obtain a new loan to pay off the construction costs. At Merchants, we offer construction to permanent financing, which allows customers to borrow for the construction phase and modify that loan to allow them to pay off the construction costs in one simple process.

"We have a lot of options for how to finance constructing your home, but something that they all have in common is that you'll need to have an appraisal done in order to determine the value of the home once it is complete," said Cindy Luedke, Mortgage Lender in Apple Valley, Minnesota. "The important thing to remember is we're here to help with the details. We will walk you through the entire process until your home is complete."
How much do I need for a down payment?
For qualified applicants, Merchants requires a minimum down payment of 5% if the purchase price is under $726,200 (certain programs may allow for a minimum down payment as low as 3%). With a 5% down payment, you will have a single permanent loan with mortgage insurance at 95%.*

What happens next?
Once you have obtained financing for your construction loan, the builder will typically take draws (payments) throughout the construction phase. During the construction process, you will only be charged monthly interest payments on the amount of the loan advanced.

Dawn Garms, Mortgage Lender in Onalaska, Wisconsin, shares some insight on selecting a builder: "When you're getting bids from builders for your home, make sure that you take a close look at them - some builders' bids don't include all the materials needed to fully complete the home. For example, you may think the lowest bid is better, but not realize the middle range bid includes necessary items like a driveway, landscaping and a finished patio. Choose a builder that will complete the entire home within their estimated budget."
How do I apply?
Apply online or visit your local Merchants Bank to speak to a mortgage lender. After reviewing your application and other information, you will be notified if you've been preapproved for both a construction and permanent loan.* You could get started on your dream home for as little as 5% down.

If you'd like to learn more about the construction loan process, review our guide on construction to permanent financing.

*Subject to credit approval.
Maximum financing is the highest loan-to-value which varies based on the loan product