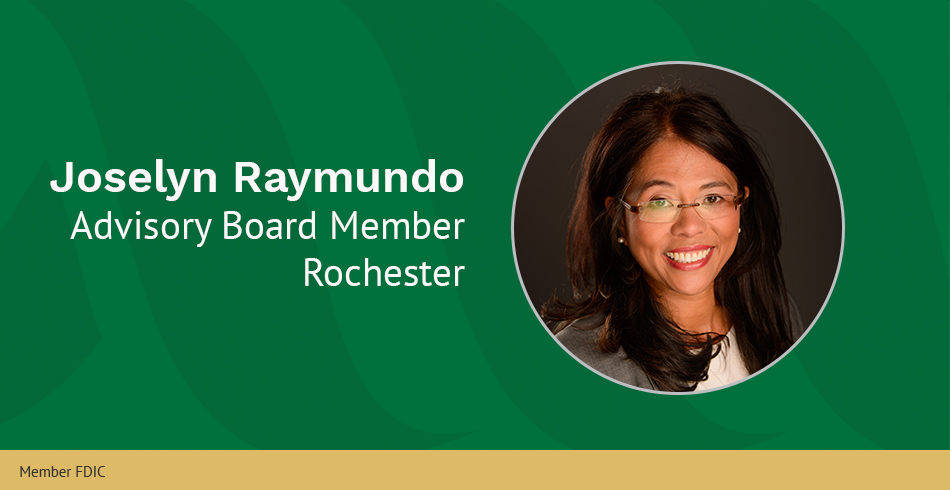 Joselyn Raymundo Named to Merchants Bank Advisory Board
Joselyn Raymundo has been named to the Merchants Bank Advisory Board for Rochester, according to Erick Maki, Regional President - South Region.
"Our local Advisory Board members play an important role in guiding our branches in Rochester. Joselyn's insights into the local economy and perspective as a small business owner will be beneficial to Merchants in serving the local businesses and families in the Rochester area," said Maki.
Raymundo is the Founder/CEO of Rochester Home Infusion (RHI), a provider of intravenous medication in the comfort of a patient's home, headquartered in Rochester. She was also a Hospital Corpsman in the United States Navy. In addition to the Merchants Bank Advisory Board, Raymundo also serves on the Board for Destination Medical Center EDA, The Reading Center, and the Rochester Chamber of Commerce.
"I am humbled and excited to join the Merchants Bank Advisory Board for Rochester. My experience running a woman-, minority- and veteran-owned business brings in a unique perspective on how Merchant Bank could further help our business community," said Raymundo.
The Board and Advisory Board leadership structure is well established in the Merchants culture and has contributed to the growth of the organization. The Rochester Advisory Board was established in 2017. Advisory Boards across Merchants' footprint ensure the Bank is connected with the communities served and provides key insights into the local population and economies. Advisory Board members contribute meaningful feedback about what is important to community members and business owners and how Merchants Bank can collaborate on a local level to create thriving communities.
Merchants Bank is a full service community bank with 23 branches in southeastern Minnesota and west-central Wisconsin and a leasing division, Merchants Bank Equipment Finance, in Edina. Headquartered in Winona, MN, MFGI has more than $2.7 billion in assets and is the 4th largest bank chartered in the state of Minnesota. Merchants was founded in 1875.