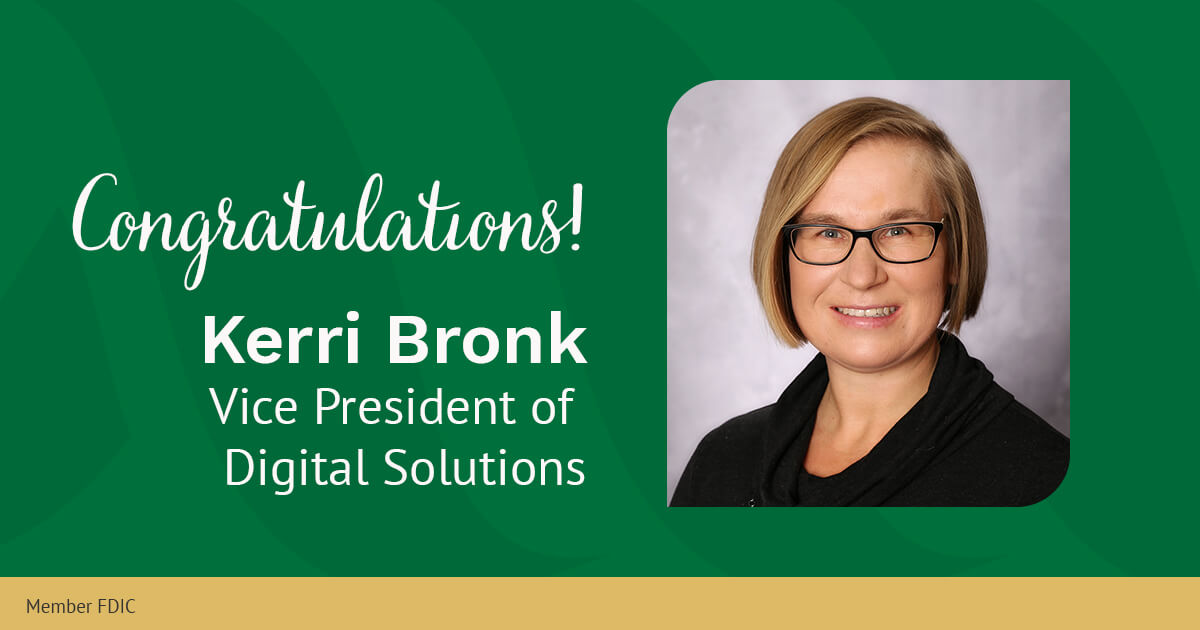 Kerri Bronk Promoted to Vice President of Digital Solutions
Winona, Minn. – Kerri Bronk has been promoted to Vice President of Digital Solutions at Merchants Bank, according to Stephen Swenson, Chief Information Officer.
"Kerri has led product and services innovation at Merchants for nearly 15 years. Her specific expertise in this area is critical as we continue to make strategic, necessary investments in digital solutions for all stakeholders," said Swenson.
Bronk joined Merchants Bank in 1996 as a Teller at the
Winona-Goodview
location. She joined the Operations Department in 2001 and was promoted to Senior Operations Officer in 2009. In 2019, Bronk added digital banking to her responsibilities, becoming E-Channel Officer to oversee solutions including
Online & Mobile Banking
, payment systems, mobile deposit and more. In her new role, Bronk will be responsible for innovation of both customer and employee digital experiences, solutions, and processes. She will also oversee corporate workflow management for the Company.
"I am excited to have the opportunity to focus on the strategic growth of digital solutions for our customers and the Merchants team," shared Bronk. "This work will help us continue to provide options for to our customers to do business with us when, where and how they prefer."
Bronk is a life-long Winona resident and attended Cotter High School. She obtained her master's degree in Project Management from St. Mary's University in 2007 and has a degree in in Business Administration from Winona State University.
Merchants Bank
is a full-service community bank with 23
bank locations
in southeastern Minnesota and west-central Wisconsin and a leasing division,
Merchants Bank Equipment Finance
, in Edina. Headquartered in Winona, MN, MFGI has more than $2.6 billion in assets. Merchants was founded in 1875.