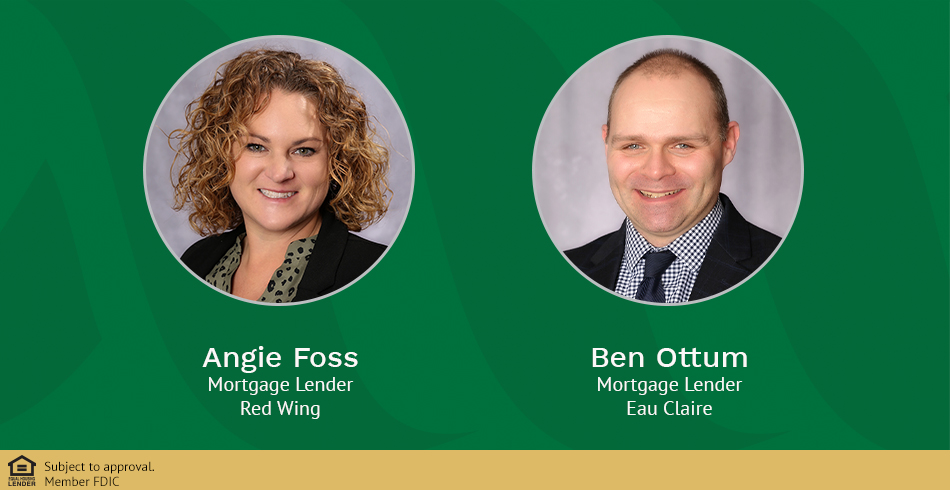 Meet Our New Mortgage Experts
Our
mortgage team
is growing with three new lender additions. Please help us welcome and congratulate them.
Angie Foss
Angie Foss
has joined Merchants Bank as a Mortgage Lender at Merchants Bank in Red Wing. She has more than two decades of experience in the financial industry. In addition to traditional mortgages, Angie is well-versed in Federal Housing Association (FHA), Veterans Administration (VA), rural development and other specialty loan programs.
"I really enjoy working with home buyers and builders throughout the loan process and feel privileged to be their partner during this exciting time in their lives," said Angie. "It's even more rewarding getting to this work as part of a community-minded bank like Merchants."
Angie is an active community member, serving as the President for the Red Wing Area Chamber of Commerce Ambassadors, Chair of the Goodhue County Habitat for Humanity Board of Directors and a member of their Family Services and Marketing & Finance Committees, and a member of the Lake City Chamber of Commerce Ambassadors. She is also co-founder of T.R.A.I.L. to Home Ownership, a real estate industry educational resource for the community.
Ben Ottum
Ben Ottum
has joined Merchants Bank as a Mortgage Lender at Merchants Bank in Eau Claire. He has been in banking since 2008, with the majority of his time as a Mortgage Lender.
"I look forward to this opportunity to be a part of the Merchants Bank team and continue my career serving the home loan needs of residents in all the Chippewa Valley communities," said Ben.
Ben has also been a community leader for many organizations in the Eau Claire area. He recently served on the Board of Directors for the Chippewa Valley Habitat for Humanity and chaired its Family Selection Committee. In addition, he served on the committee for the very successful 2021 Wisconsin Farm Technology Days held in Eau Claire County and is a member and volunteer for the Young Professionals of the Chippewa Valley.
Meet our entire
team of mortgage experts
.