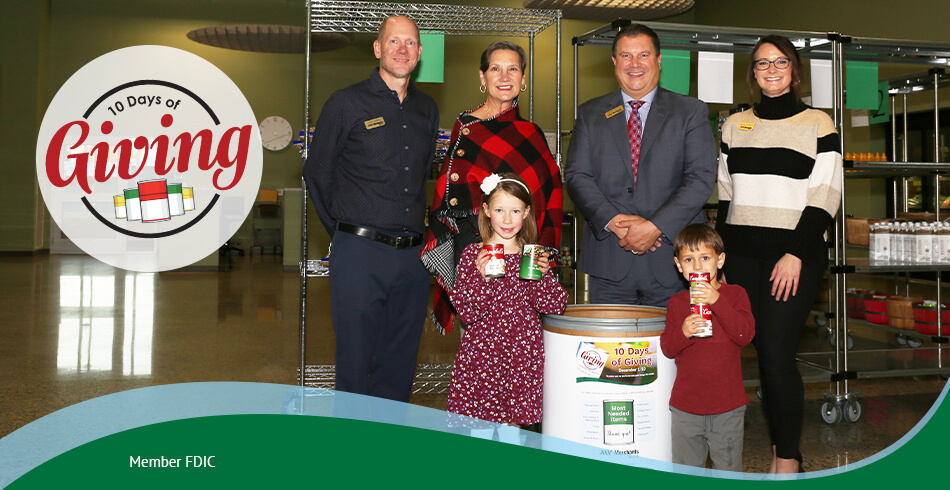 Merchants Bank's 10 Days of Giving Food Drive Kicks Off 34th Year
News
Community
| 11.23.2022
Merchants Bank is kicking off the 34th annual
10 Days of Giving food drive
, which runs December 1-10 to benefit food shelf programs at Winona Volunteer Services (WVS). Through the first 33 years, more than four million pounds of food have been collected.
The ceremonial first gift of food was presented to Sandra Burke, WVS Executive Director, from local students Addyson Brink and Canaan Singer at the food shelf.
Co-Chairs
leading this year's efforts Dave Pierret and Chris Thrune were also in attendance.
"There is still a need in our community with Winona Volunteer Services serving 2,362 unduplicated individuals in 2021," said Burke. "The 10 Days of Giving food drive is critical each year as it brings in the resources we need to keep up with food shelf demand well into the next calendar year."
Last year, the 10 Days of Giving campaign collected 272,162 pounds of food. Two pounds of food are calculated for each dollar brought in. Monetary donations are an important part of the drive as WVS is able to purchase food at a discount to stock its shelves. For example, WVS can purchase $50.00 worth of food with just $15.00 through resources such as the region's food bank.
"Getting the word out about how Winona Volunteer Services serves our County is central to the success of this drive," said Andrew Guzzo, Merchants' Chief Banking Officer & Regional President (Winona). "It's important for community members to know what programs are offered, take advantage when they need and then give back when they are in a position to do so."
Burke highlighted a few key statics about WVS use in 2021: An average of 466 households were registered for the supplemental food shelf each month with 231 of those households being first time recipients of food from WVS. In total, WVS distributed 426,719 pounds of food.
The drive has also received a $10,000 donation in memory of Gina Craney by the Craney family, Sean, Erin and Steve.
Monetary donations made out to 10 Days of Giving can be mailed or dropped off at Merchants Bank, 102 E. 3rd Street, Winona, MN 55987. Donations can also be made online at the WVS website:
www.winonavs.org
. Indicate "10 Days of Giving" after entering your name. For questions, please call Dave at (507) 457-1196.
The
10 Days of Giving food drive
is an annual community collaboration between Merchants Bank and WVS to make sure no one in Winona County goes hungry each winter. Since 1989, the drive has collected more than four million pounds of food helping thousands of people. In addition to the Winona drive, other Merchants locations partner with their local food shelf in a similar effort.