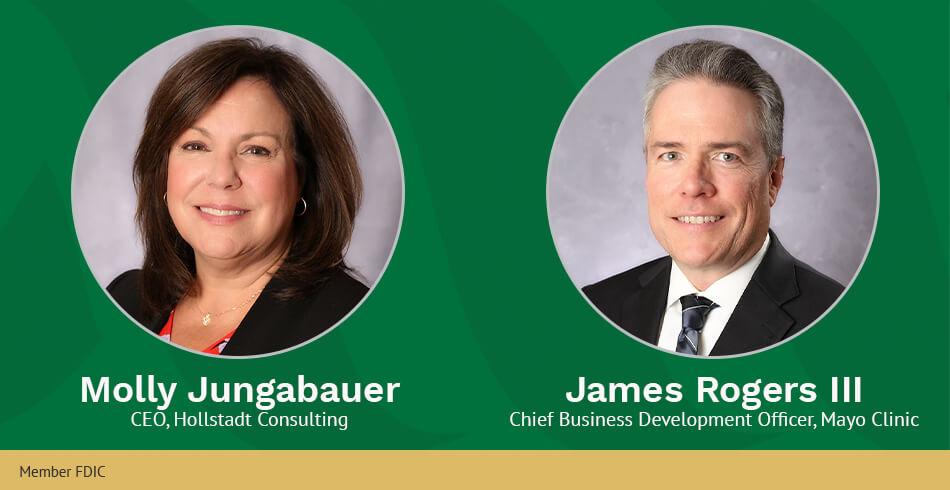 Molly Jungbauer and James Rogers III Elected to Merchants Financial Group, Inc. Boards of Directors
Molly Jungbauer and James Rogers III were elected to the
Merchants Financial Group, Inc. (MFGI) Board of Directors
at the Company's April 14 annual Shareholder meeting, according to Richard Lommen Jr., Chair of the MFGI Board.
"We are thrilled with the additions of Molly and Jim to our Board, as they both bring cognitive diversity and a depth of expertise in key areas like technology, innovation, quality assurance and finance, which will strengthen our team of Directors and help Merchants continue to thrive as a community bank of choice," Lommen said.
Jungbauer, CPA, has been CEO of Hollstadt Consulting, a technology consulting firm based in Eagan, MN, for the past 10 years. Prior to joining Hollstadt, she was Controller for the Minnesota Wild. She currently serves on the Board of Directors for the Minnesota Chamber of Commerce, which she previously chaired. She is also actively involved as Director/Treasurer for CaringBridge in Eagan, Minn., Advisory Board member for the University of Minnesota Carlson School of Management and as Treasurer for the Minnesota Wild Foundation.
"As I evaluated the opportunity to join the Board it became very appealing because I discovered Merchants is a well-run organization, dedicated to its clients, always seeking to improve, and has a team that lives the Company's core values," noted Jungbauer. "I'm proud to be joining their Board and look forward to being a valued partner."
Rogers is Chief Business Development Officer for Mayo Clinic, where he has been a contributing member of the institution's leadership team since joining there as its first Patent attorney in 2000. He is also an active community leader and volunteer, serving as Board Chair for Medical Alley Association, Director/Past Chair for Rochester Area Economic Development, Inc., Director/Past Chair of the Lourdes Foundation in Rochester. He also serves on the Board of Directors for Resoundant, Inc., Mayo Clinic Foundation for Medical Education and Research, and Medically Home. He will continue to serve as a member of the Merchants Bank Local
Advisory Board in Rochester
, which he joined in 2016.
Rogers shared, "I am drawn to mission driven work, particularly work that can make a positive impact within our communities. As a member of the Rochester Advisory Board, I've seen firsthand that the Merchants team works every day to be true partners for the people they serve. I am very honored to be considered for a role on the Board and look forward to serving."
Jungbauer lives in White Bear Lake with her husband, Jim. Rogers and his wife, Nora, are Rochester residents.
Both Jungbauer and Rogers have also been elected to the Merchants Bank, N.A., Board of Directors. The
Merchants Financial Group, Inc. Board of Directors
is responsible for providing oversight and strategic direction for Merchants while ensuring the safety and soundness of the organization. The
Merchants Bank Charter Board
has the fiduciary duty to carry on the business of banking and also provides general counsel associated with Merchants' commitment to be a recognized community leader throughout the Bank's service footprint in alignment with its community banking charter. Both Boards work closely with the Bank's Executive Leadership team.
Merchants Bank
is a full service community bank with 23
bank locations
in southeastern Minnesota and west-central Wisconsin and a leasing division,
Merchants Bank Equipment Finance
, in Edina. Headquartered in Winona, MN, MFGI has more than $2.8 billion in assets. Merchants was founded in 1875.