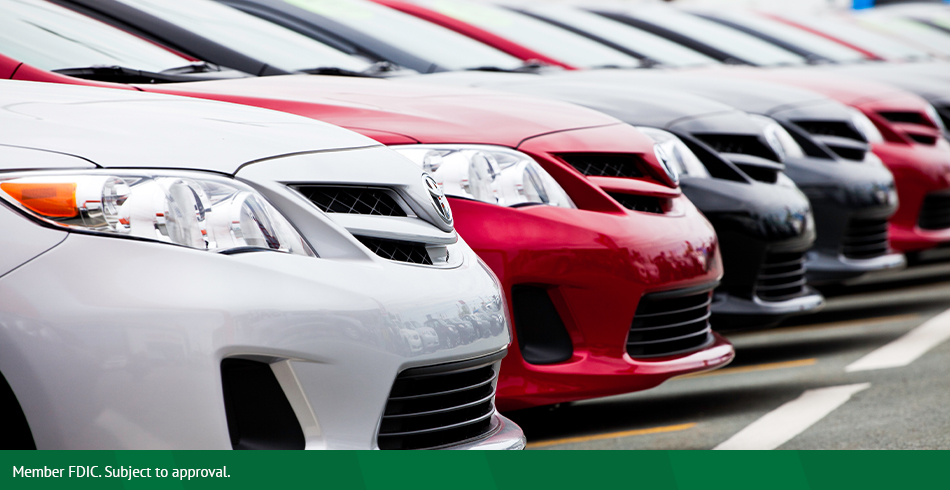 Our Top 4 Reasons to use Floor Plan Financing
If your business manages equipment or vehicle inventory – from cars to power sports, to manufactured homes to implement dealers or other types of floor plans – you know how complicated inventory management can get.
Our efficient and easy floor plan financing system helps you take care of it all from paying off and buying units to inventory management and more.
"We've been impressed with the convenience of the floor plan financing system from Merchants Bank. In a matter of a click, I can access balance, payment and payoff information when I need it. Everything we need to manage our inventory is at our fingertips." – Randy Stevens, Partner at Adamson Motors, Inc.
So, how can floor plan financing benefit your business? Here are our top reasons:
Easy Access to Your Line of Credit
Access to your line of credit when you need it – even from your office. We provide same day funding to our floor plan clients.* Plus, we offer competitive rates and flexible terms tailored to your business.
Increase Efficiencies in Inventory Management
Our floor plan system provides robust reports and data to help you see the whole picture, including turn time of inventory, interest expense and more. Plus, you'll receive curtailment notifications.
"We're proud to offer a floor plan system that rivals what is offered at larger corporate banks," said Dan Massett, President for Merchants Bank's Central Region. "It's easier than ever to access the information you need at your fingertips."
Better Understand Costs
Tracking your costs, including interest, is easy with our system.
Simple and Intuitive System
You'll find that our floor plan financing system is user-friendly and tasks you'd like to complete are just a click away, including:
Easy process for paying off and buying units.
Draft payments and submit directly to the manufacturer on your behalf when you add inventory
"We're here to help make things easier with a best in class floor plan system and financing options tailored to your business," continued Massett. "It's truly important to us at Merchants to get to know your business and find solutions that will help you be successful."
Learn more about our customized floor plan financing and how it can benefit equipment or vehicle inventory management for your business.
*Same day funding available if initiated prior to Merchants Bank cut-off time.