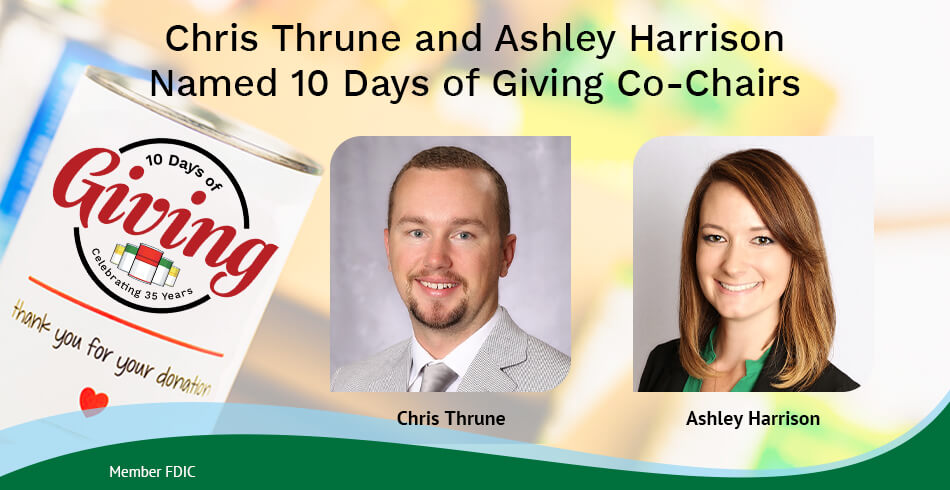 Pierret and Thrune Named 10 Days of Giving Co-Chairs
News
Community
| 10.18.2022
Dave Pierret and Chris Thrune are Co-Chairs for Merchants Bank's 2022
10 Days of Giving food drive
running December 1-10. In its 34th year, the drive benefits food shelf programs operated by Winona Volunteer Services (WVS). Last year's campaign raised 272,162 pounds of food for WVS, culminating in more than four million pounds of food donated since the drive began in 1989.
"Continuing the tradition of the 10 Days is something we're honored to do at Merchants. This year has been difficult for many, and we hope this drive can help make the season brighter for those in need," said Andrew Guzzo, Chief Banking Officer & President – Winona.
Special events aimed at raising donations this year include the always-delicious Fish Fry Dinner on Friday, December 2 and Apps & Taps featuring celebrity bartenders at Port 507 on Sunday, December 4.
"I'm glad to be coming back to co-lead our amazing committee and grateful for everyone who has already volunteered their time and talent to make our 2022 drive the best year yet," said Pierret.
Winona County still has many community members facing hardship who need assistance. In 2021, Winona Volunteer Services distributed 426,719 pounds of food and helped over 2,700 individuals through their food shelf or emergency food services.
"The 10 Days of giving is so important to the Winona community and I'm proud to play a larger role this year. I hope to see many of you at the upcoming events we have planned in early December," said Thrune.
Monetary donations made out to 10 Days of Giving can be mailed or dropped off at Merchants Bank, 102 E. 3rd Street, Winona, MN 55987. Donations can also be made online at the WVS website: www.winonavs.org. Indicate "10 Days of Giving" after entering your name. For questions, please call Dave at (507) 457-1196.
The
10 Days of Giving food drive
is an annual community collaboration between Merchants Bank and WVS to make sure no one in Winona County goes hungry each winter. Since 1989, the drive has collected more than four million pounds of food helping thousands of people. In addition to the Winona drive, other Merchants locations partner with their local food shelf in a similar effort.