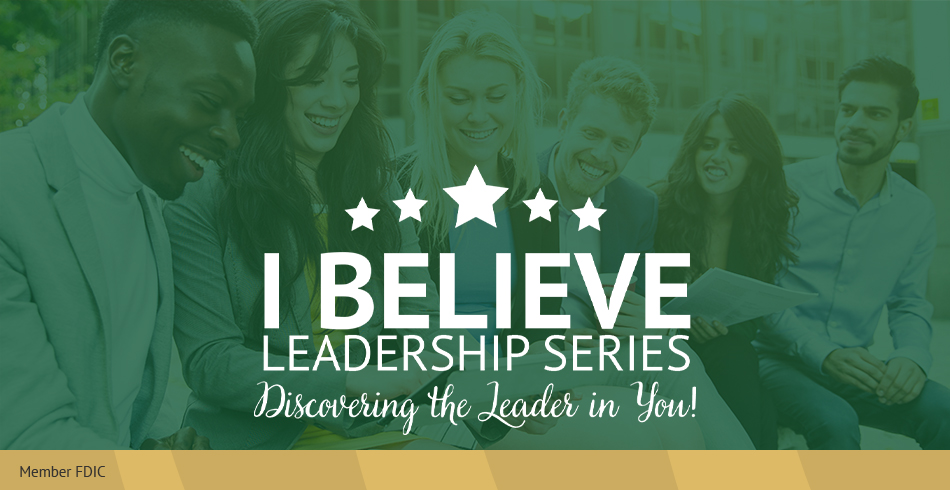 The I Believe Leadership Series
How our employees develop the leader within.
What if you could learn more about yourself, and immediately begin to enhance your leadership skills? Start using them your daily life, both at work and at home?
The Merchants Bank "I Believe Leadership Series" is an annual, home-grown leadership development training program that does just that for Bank staff. The program was developed by our Training Director, Kristine Valk, who built the course over 5 years to ensure the training was tailor-made to fit Merchants' culture and core values.
With a maximum class size of 20 students, employees can dive into honing their leadership skills through classroom style sessions, one-on-one coaching, an accountability partner, a service project and final capstone presentation. The program is 12 sessions throughout the year and covers a variety of topics, including:
Temperament assessment and working with different personalities
Effective coaching skills
Understanding and applying strengths
Emotional intelligence
Communication and conflict resolution
Leading through change
Employee motivation and accountability
Team building
The series brings coworkers from all different departments, branches and leadership roles together to grow:
"As we go through the program, attendees learn more about one another and are embracing each other's talents. It's really become an environment of trust and openness that's resulted in more collaborative work," Kristine said.
As part of one of five strategic priorities for the bank, talent management and leadership development will continue to be a key focus for Merchants in the years to come. Our I Believe in Leadership Series graduates will help all of us strive to serve each other and you better.

Learn more about working at Merchants Bank.