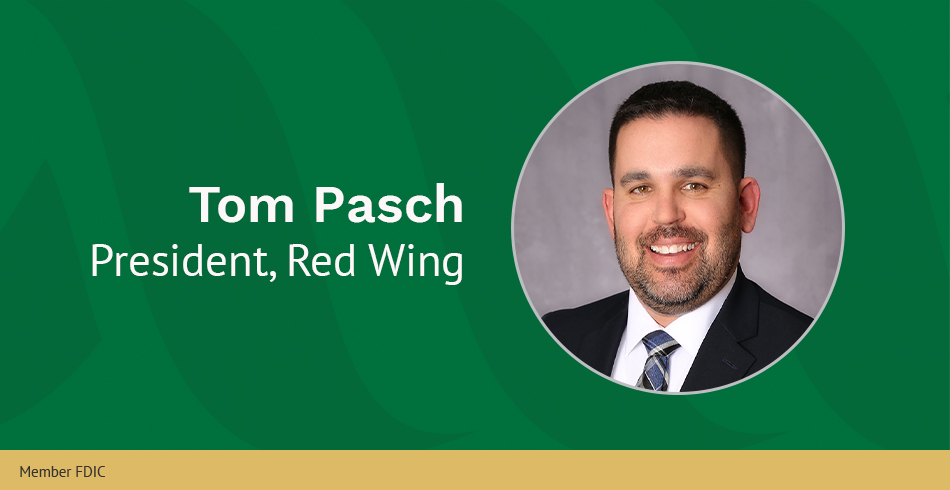 Tom Pasch Named Market President for Merchants Bank in Red Wing
Tom Pasch has been named Market President for Merchants Bank in Red Wing, according to Dan Massett, North Region President.
"Tom is a great addition to our already amazing team in Red Wing," said Massett. "His background, integrity, emphasis on relationship-based banking and leadership skills truly align with our culture and the strategic focus here at Merchants."
Pasch has nearly 15 years of banking experience, serving mainly in leadership and commercial banking roles. He is also an experienced Small Business Administration (SBA) lender. Pasch was most recently a Market President for Bank First in Watertown, WI and also previously worked at Ixonia Bank and Wells Fargo. In addition to his banking career, he served in the Army for six years.
"What I value most in my role is the ability to connect and build genuine relationships with people in the community, business owners and the team I work alongside. Merchants understands the importance of personal relationships and the difference that makes in truly being able to serve customers with their best interests at heart; it's their approach to community banking that really appealed to me," said Pasch.
Pasch is a native Minnesotan and graduated from Brown College. He, his wife, Julie, and their four daughters are relocating to the Red Wing area and look forward to getting involved in the community. In the past, Pasch has been involved in local city government, civic groups and other organizations to help better the communities that he has lived in. His hobbies include tennis, golf and alpine skiing and he is an avid hunter and outdoorsman.
Since 2007, Merchants Bank has been a community partner in Red Wing, when the Bank acquired 1st National Bank of Cannon Falls and Red Wing. As a regional banking leader, the Bank offers a full array of traditional banking and mortgage solutions, wealth management services and can assist businesses of any size with their business financing and treasury management needs.
Merchants Bank is a full service community bank with 23 branches in southeastern Minnesota and west-central Wisconsin and a leasing division, Merchants Bank Equipment Finance, in Edina. Headquartered in Winona, MN, MFGI has more than $2.7 billion in assets and is the 4th largest bank chartered in the state of Minnesota. Merchants was founded in 1875.