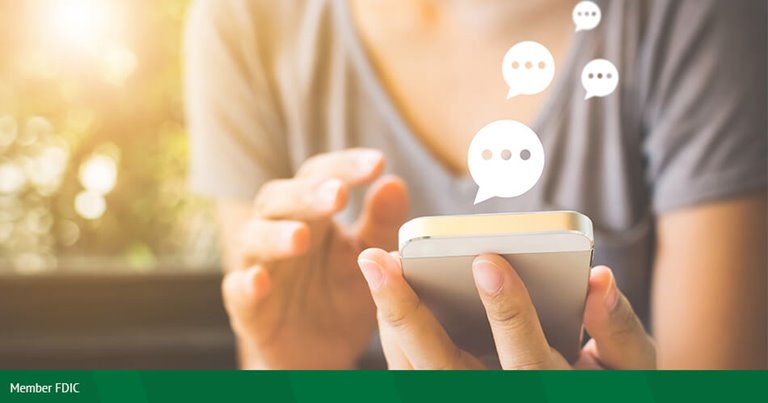 Top 5 Alerts You Should Turn On Now
We're all looking for ways to make sure our personal information and finances are safe. With our Personal and Small Business Online Banking, you can set up Alerts to add an extra layer of security for your accounts and give you some peace of mind.
With the Alerts feature you can set up various kinds of notifications for transactions in and out of your accounts (checking, savings, lines of credit and loans), as well as profile updates.
Notifications can be sent to your email or if you set them up in our mobile app you'll have the option of receiving a text message or push notification to your mobile device's home screen. You can find Alerts by going to the "Profile" tab in Online Banking, then selecting the "Alerts" section and clicking on the bell.


With over 20 alerts, you may be wondering where to start. Here are five alerts to turn on now to help you manage your money and add an additional layer of security.
Transaction over threshold amount – this is a great alert to keep an eye on what is going in and out of your account. If you want to know when a large purchase posts or deposit comes in to your account, set a threshold for a little less than the amount you're expecting. Or, if you'd like notifications for all your transactions, set a very low threshold like $0.50 or $1.00.
Email address was changed – Your email account is often an essential tool for information security, and you want to be sure your information is going to the correct address. Setting up this alert means you'll be notified if your contact email is changed in Online & Mobile Banking.
Account balance above/below threshold – These are actually two separate alerts, but function the same. If you'd like to know if your account balance falls below a certain dollar amount, set a balance below threshold alert for that amount. If you want to know if an account is over a certain dollar amount, set a balance above threshold.
Debit transaction was posted – Since debit card fraud is not uncommon, this is a great tool to see when your debit card is used to make a purchase. If you haven't used your debit card and you get this alert or notification, you'll know to contact the bank as soon as possible.
Payment was posted to a loan – This alert will notify you when your loan payment is processed. This is a perfect alert for peace of mind that your payments are being made on time, especially if you have an automatic payment set up.
There are many more alert options that could fit your needs. Log in to your Online Banking to explore more at merchantsbank.com. Questions? Contact the Customer Service Represetative at your local branch or our Electronic Banking team.