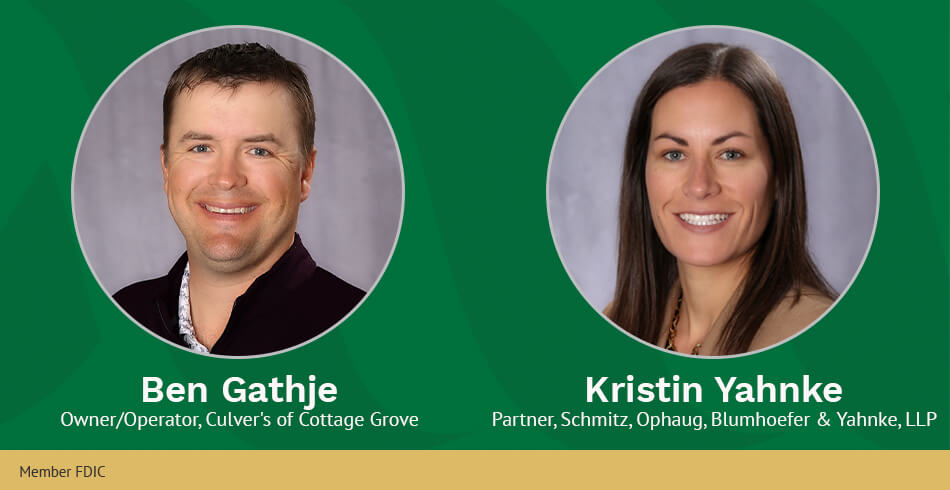 Welcome to Ben and Kristin, New Advisory Board Members
We're excited to share two new members who have joined our
Local Advisory Boards
. Meet Ben and Kristin, serving in the Twin Cities and Northfield.
Ben Gathje
Twin Cities Area Advisory Board
Ben has been part of the Culver's franchise since 2002 and owns Culver's locations in Cottage Grove, Stillwater and Woodbury with his business partners. In addition to the Merchants Bank Advisory Board, Gathje also serves on the Board of Directors for the Cottage Grove Chamber of Commerce.
He shares: "I'm looking forward to contributing to Merchants' success as a Board member and helping others learn more about the Bank that has helped me grow my own company over the years."
Kristin Yahnke
Northfield Advisory Board
Kristin is a Partner at Schmitz, Ophaug, Blumhoefer & Yahnke, LLP and has nearly 10 years of experience as an attorney. In addition to the Merchants Bank Advisory Board, Yahnke is an active community volunteer and recently served on the Board of Directors for Northfield Montessori.
"I want to be involved in and connected to the community in which I live and work and this opportunity to join the Merchants Advisory Board will be a great fit," says Kristin. "I am looking forward to learning more about how the banking world intersects with other industries and professions, including my own, and helping drive community growth through a strong local bank."
Want to meet more local leaders? See our
Local Advisory Boards
.