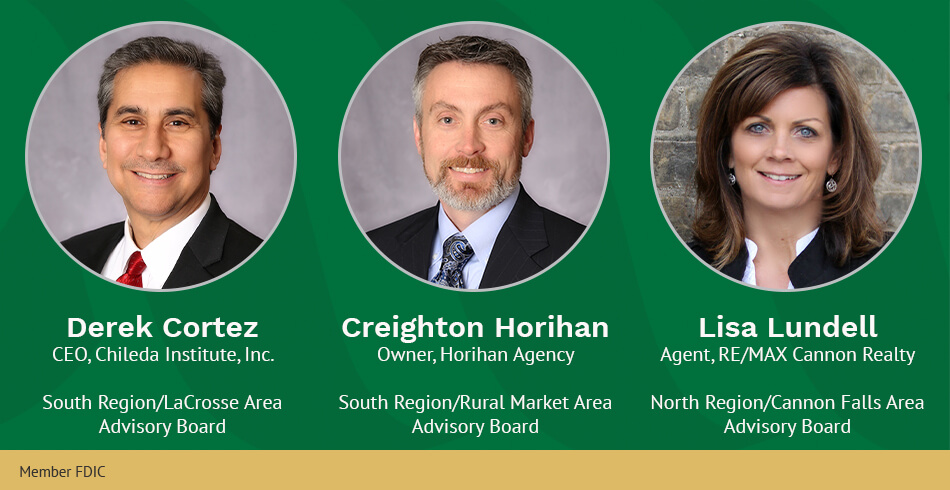 Welcome to Our New Local Advisory Board Members
When we say we're "committed to our communities," what does that mean? To us, it means we're here to help make each community we serve a better place in which to live and work through financial reinvestment, engaged market leadership impact, and the support of employee volunteer involvement.

As your community bank, local leadership is at the heart of every strategic decision we make. With input from our local advisory boards, decisions are made by local staff who know best what will benefit the community. Because we live and work here too, we work hard to improve the lives of every person, every day. That's what a community bank does.

Recently, we've had some excellent new additions to those advisory boards. Meet the local folks that serve on our boards to share insight about how we can be good stewards of each of our unique communities:

Caledonia, Lanesboro, Rushford & Spring Grove Advisory Board:

Creighton Horihan is President/CEO of Horihan Insurance located in Rushford. He has spent his
entire career in the insurance industry, with decades of experience in both personal, farm and
business insurance. He is also President/CEO for Lyle's Flooring America, Co-Owner of Pioneer
Seeds and operates a family farm near Utica.

Creighton said, "I'm excited to represent our local community and provide input on the future
of banking at Merchants."

Cannon Falls, Hampton & Red Wing Advisory Board:

Lisa Lundell is a Realtor for REMAX Cannon Realty located in Cannon Falls. She began her real estate career in 2004 when she joined her parents' firm. In addition to the Merchants Bank Advisory Board, Lundell also serves on the Board of Directors for the Cannon Falls Chamber of Commerce.

Lisa commented, "I have always appreciated what Merchants Bank brings to this community and feel blessed with the opportunity to serve on this Advisory Board."

La Crescent and Onalaska Advisory Board:

Derek Cortez is CEO of Chileda, a behavioral health center for children and young adults with cognitive and behavioral challenges from the Midwest region. In addition to the Merchants Bank Advisory Board, Cortez also serves as a Board member for the Wisconsin Association of Family and Children's Agencies and New Horizons Shelter and Outreach Centers.

"I believe community banks like Merchants have an important role to play, investing in our communities," Derek said. "I'm excited for the opportunity learn more about the banking industry and share my perspective with Merchants."

Want to meet more local leaders? See our local Advisory Boards.