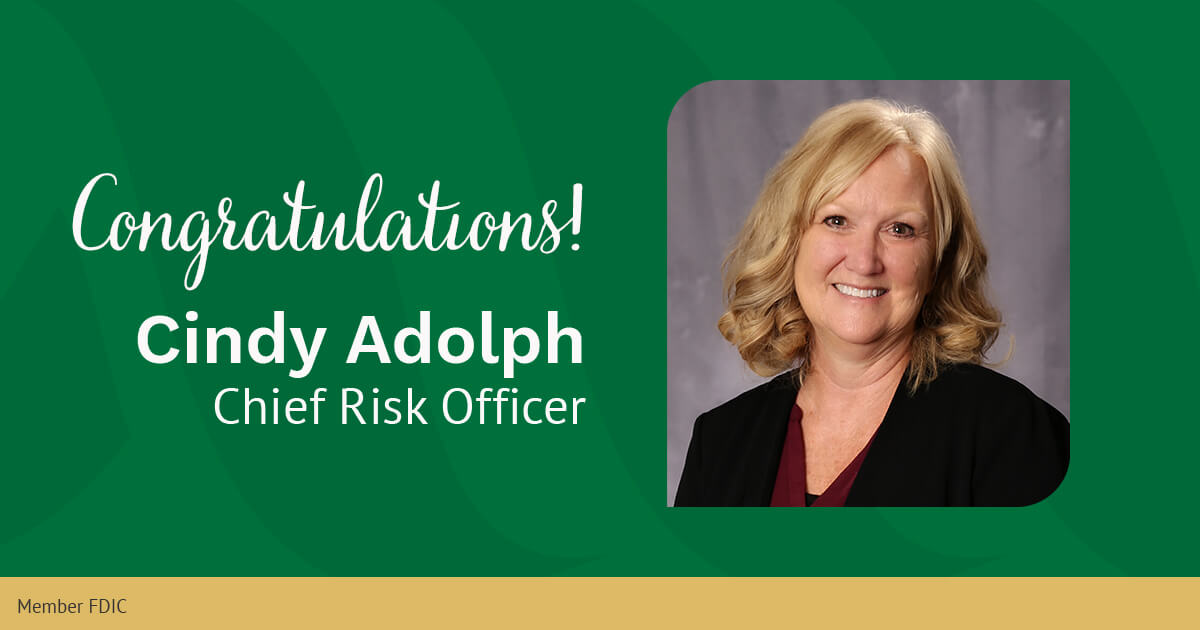 Cindy Adolph Promoted to Chief Risk Officer at Merchants Bank
Cindy Adolph has been promoted to Chief Risk Officer/Senior Vice President at Merchants Bank, according to Greg Evans, President & CEO.
"Cindy's promotion is in alignment with the strategic focus and enhancements we must continue to facilitate in our risk management culture," shared Evans. "Banking continues to be a highly regulated industry. Having someone with Cindy's depth of experience and knowledge to lead the continued evolution of our risk management and regulatory compliance programs for the Bank is critical to our future independence and success."
In Adolph's new role she will have more strategic independence and company-wide focus on risk management while continuing to oversee Merchants' internal audit and regulatory compliance functions. She is responsible for the leadership, innovation, governance and management necessary to identify, evaluate, mitigate and monitor all of the company's risk components.
"For an organization of Merchants' size, having a role that provides strategic oversight of the risk management is essential. I'm grateful for the realignment of my prior role and more focus being placed on the different areas of risk within the Bank with all going on in today's world," said Adolph.
Adolph joined Merchants in 2007 as part of the acquisition of The First National Bank in Cannon Falls, where she had been working since 2002. She was promoted to Risk, Compliance and Audit Manager for Merchants Bank in 2015. She has more than four decades of experience in the banking industry.
She lives in Red Wing with her husband and offices out of the
Winona
and
Red Wing
Merchants Bank locations.
Merchants Bank
is a full service community bank with 23
bank locations
in southeastern Minnesota and west-central Wisconsin and a leasing division,
Merchants Bank Equipment Finance
, in Edina. Headquartered in Winona, MN, Merchants has nearly $2.5 billion in assets and was founded in 1875.