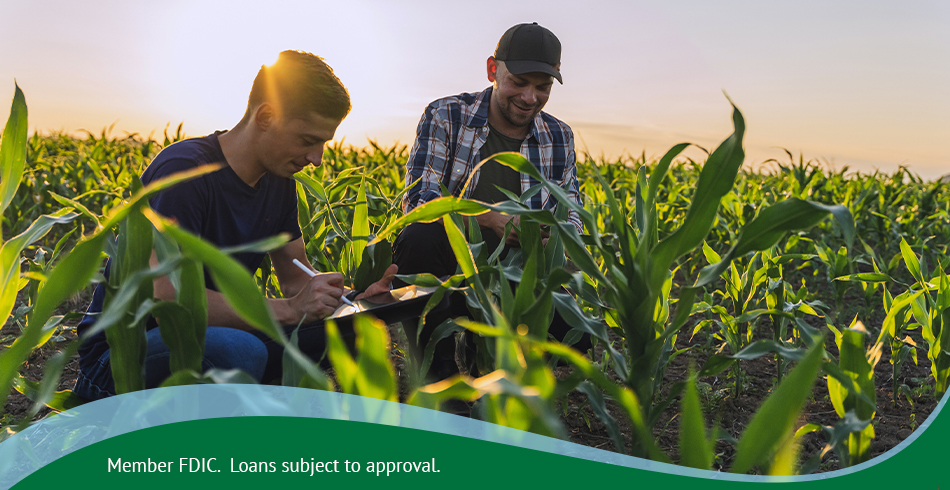 Fuel Your Farm's Future: Exploring Agriculture Lending
Education
Business
| 07.25.2023
Are you a farmer or agricultural entrepreneur looking for the right loan to finance your farm? If so, you may be wondering: what does agriculture lending entail and how can it help my business thrive?
Agriculture lending is the process of providing loans to farmers and agricultural businesses to help finance a variety of needs. In this blog post, we'll explore a few of the different types of agriculture loans available and address some of the most common agriculture lending questions.
Each agriculture loan type is designed to meet the specific financial needs of farmers at different stages in their business journey. Let's take a closer look at some of the most popular types of agriculture loans.
Equipment Financing
While farm equipment is expensive, it is necessary for running a successful operation. Equipment financing loans are designed to help farmers purchase the machinery they need to keep their business running smoothly. These loans may be secured by the farm equipment itself.
Start-up Agriculture Loans
Starting a new farming operation is a daunting task, and securing the necessary capital to get started can be a major hurdle. That's where start-up agriculture loans come in. These loans are designed to help farmers get their new operation up and running and may be used to cover equipment and farm operating expenses.
Agriculture Real Estate Loans
For many farmers, the biggest investment they'll make is the land they use to grow their crops or raise their livestock. Agriculture real estate loans are designed to help farmers finance the purchase of land or the construction of buildings on their property. These loans typically have longer repayment terms than other types of agriculture loans, which makes them a popular choice for farmers who need to borrow a large sum of money.
Farm Operating Line of Credit
A farm operating line of credit is a flexible financing option that helps farmers purchase the seeds they need to grow their crops or cover a variety of farm-related expenses. This type of loan is a useful tool for farmers who need to cover unexpected expenses or manage cash flow during lean months.
FAQs
Q: How can I qualify for an agriculture loan?
A: To qualify for an agriculture loan, you will need to demonstrate your ability to repay the loan. This means providing financial documents that show your income, expenses, and debts. Additionally, lenders will look at your credit score, farming experience, and business plan to determine your eligibility.
Q: What are the repayment terms for agriculture loans?
A: The repayment terms for agriculture loans vary depending on the type of loan and the lender. Typically, agriculture loans have a repayment term of five to ten years. Some loans may require monthly payments, while others may have a seasonal repayment schedule that coincides with the harvest.
Q: How do I prepare for farm succession and transition of ownership?
A: Preparing for farm succession and transition of ownership requires careful planning and communication with your family and potential successors. It's important to have a clear understanding of your financial situation and the options available to transfer ownership. You may also want to consider seeking the advice of an attorney or an experienced local financial advisor. With the right guidance and planning, you set yourself up for a smooth transition and secure the future of your farm for generations to come.
Agriculture lending can be a complex field, and choosing the right type of agriculture loan for your farm may seem challenging. It's important to work with a local lender who understands the unique needs of farmers to provide the right guidance and support throughout the borrowing process.
Have more questions or ready to take the next step?
Reach out to an Ag Banker.