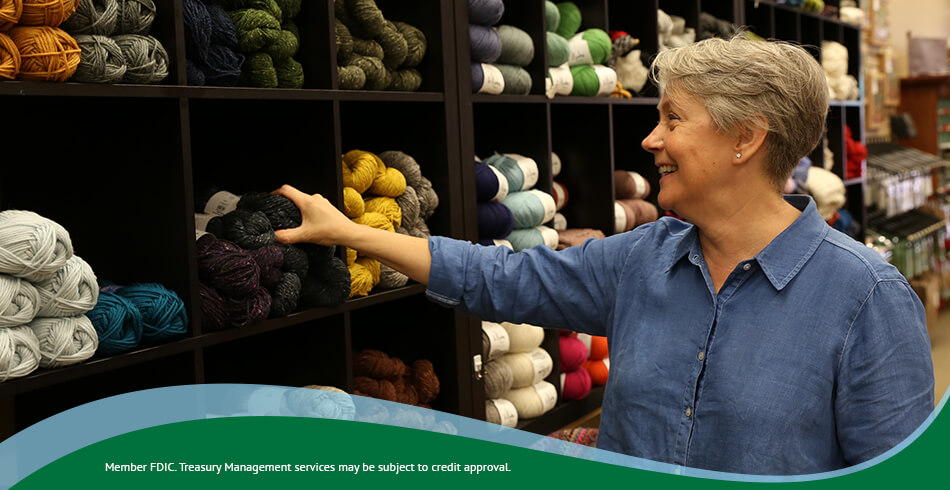 How Fraud Tools Help Protect Yarnology's Business Accounts
"Experiencing fraud on our business checking account was a wakeup call. Now I can stop it with ACH blocks." – Gaby Peterson, Yarnology
Gaby is the co-owner of Yarnology, a yarn store in the heart of Winona, MN, which opened in 2010. It was important to Gaby and her co-owner to build the business conservatively and by being adaptable along the way. They also choose to see every circumstance as a learning opportunity.
"The first weekend we opened, we weren't sure what to expect," shares Gaby. "Luckily our community showed up for us and we had to reorder nearly everything! It was one of those pleasant surprises."
Something not so pleasant about being a business owner? Finding fraudulent transactions in a business checking account.
During a review of an account statement, Gaby spotted a few transactions that didn't look quite right. She noticed the transactions were from companies that Yarnology normally does not do business with, and the dollar amounts were large and varying. "That was a red flag for me," Gaby said.
She got in touch with her bankers at Merchants who helped her assess the situation. "They were my guardian angels. I was frazzled by this situation and their calm; positive demeanors were what I needed in that moment. They knew that the best person to help me would be Lucas."
Lucas Stangl, Treasury Management Consultant, got to work researching the transactions and looking for a solution. Eventually he recommended
ACH blocks
to stop the current fraudulent transactions and prevent future ones from automatically posting to the Yarnology checking accounts.
Gaby explains how ACH blocks work, "Every morning with my coffee nearby and cat in my lap, I sign into our online banking account and review any incoming automatic payment requests. I decide what goes through and what is blocked. Taking a few minutes to do this is just part of my daily routine now and so easy. If I ever need more information on a transaction or have a question, I just call Treasury Management Support and talk to someone who can help."
ACH blocks are just one of several fraud management tools available through Treasury Management. Depending on the needs of your business or the type of fraud your business is more susceptible to or has experienced, our
Consultants
can help you find the right solution.
"No business owner wants to have to take this step, but fraud is a reality most of us will have to address as some point," shares Gaby. "Merchants has been so supportive throughout this process. We couldn't ask for a better banking partner."