Winona - Downtown
102 East Third Street
Winona, MN 55987
Hours
Lobby Hours
Lobby Hours

| | |
| --- | --- |
| Monday | 9:00 a.m. - 4:00 p.m. |
| Tuesday | 9:00 a.m. - 4:00 p.m. |
| Wednesday | 9:00 a.m. - 4:00 p.m. |
| Thursday | 9:00 a.m. - 4:00 p.m. |
| Friday | 9:00 a.m. - 5:00 p.m. |
| Saturday | Closed |
| Sunday | Closed |
Drive Up Hours
Lobby Hours

| | |
| --- | --- |
| Monday | 7:30 a.m. - 5:30 p.m. |
| Tuesday | 7:30 a.m. - 5:30 p.m. |
| Wednesday | 7:30 a.m. - 5:30 p.m. |
| Thursday | 7:30 a.m. - 5:30 p.m. |
| Friday | 7:30 a.m. - 5:30 p.m. |
| Saturday | 8:00 a.m. - 12:00 p.m. |
| Sunday | Closed |
Personal Loan Department Hours:
Monday - Friday: 9:00 a.m. - 5:00 p.m.
Observed Holidays
January 2

Closed for New Year's Day
May 29

Closed for Memorial Day
July 4

Closed for Independence Day
September 4

Closed for Labor Day
November 23

Closed for Thanksgiving
December 24

Closed for Christmas Eve
December 25

Closed for Christmas
January 1, 2024

Closed for New Year's Day
Services
Notary
Drive Up ATM
Safe Deposit Box
Local Leadership
Our Winona locations (Downtown, Goodview and Lakeside) are guided by our Chief Banking Officer & President and Merchants Bank Charter Board, made up of community members and business professionals.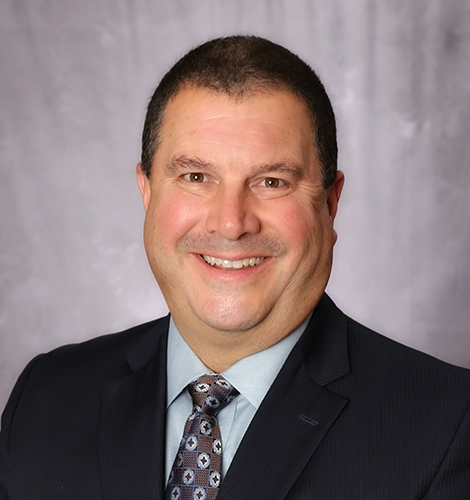 Chief Banking Officer & President: Andrew Guzzo
Community Involvement
Being a community leader is who we are. Our team volunteers thousands of hours each year in leadership and education roles in addition to local events.
Our local team is proud to coordinate the 10 Days of Giving food drive, an annual community collaboration between Merchants Bank in Winona and Winona Volunteer Services to help stock local food shelves each winter. Since 1989, the drive has collected thousands of pounds of food and helped thousands of people in the area.
We are also proud to sponsor Winona's annual Steamboat Days celebration in June and host a community Pancake Breakfast in coordination with Steamboat Days. Our team gives of their time through teaching Junior Achievement classes, a corporate volunteer group for Home Delivered Meals and so many more volunteer activities.
Our History
Winona is the location of Merchants Bank's headquarters and where the Bank was established in 1875. In the late 1800s, Winona, Minnesota was a booming town on the Mississippi River and home to hundreds of migrant workers from Poland, Germany and France. Most of them worked for the lumber mills and other businesses that supported the growing town.
Our founders recognized the need to serve Winona's working-class population and established Merchants National Bank in 1875. Merchants Bank opened for business on July 12, 1875 with $100,000 in assets and Mark Willson serving as President.
Merchants Bank's commitment to being the workingman's bank was something our founders didn't take lightly. All tellers were expected to speak and write in English, German and Polish. Even the design of our flagship location in Winona reflected our small business mentality, from wood accents to pay homage to Winona's lumber industry to a stained-glass pattern in honor of local farmers' cornfields.
Our First Board of Directors
The group of men who started Merchants Bank truly tells the story of our commitment to the working class. Our original Board of Directors included:
Mark Willson, Merchants Bank President (previously a Merchandise Salesman)
Charles Berry, Attorney
G.W. Bennett, Owner of Taylor & Bennett Co.
Conrad Booth, Manufacturer and Lumber Dealer
Charles Beck, Entrepreneur, Brewer, Politician and Farmer
H.D. Perkins, Merchants Bank Vice President (previously a Grocer)
N.F. Hilbert, Merchants Bank Cashier (previously an Accountant)
The Story of Our Winona Location
"A cube encased in brick and glass" is how the original architects described the unique design of the Merchants Bank building on 102 East Third Street. While many other banks built around the turn of the century featured gothic architecture, the Bank hired the Minneapolis firm of Purcell, Feick and Elmslie to bring a different vision to life when constructing our third bank location in the early 1900s.
The firm was a leader in "The Prairie School of Architecture" style and architects Purcell and Elmslie were close associates of Louis Sullivan (all three were contemporaries of Frank Lloyd Wright). The Merchants Bank building is the largest and most famous example of their unique, progressive contribution to early 20th-century architecture. While the building was updated and renovated several times since it opened in 1912, eventually it was restored to match the original architectural drawings during a large building renovation and expansion that took place in the early 1970s. In 1974, our building was placed on the National Register of Historic Places.
Our flagship location has some unique features that can still be seen today: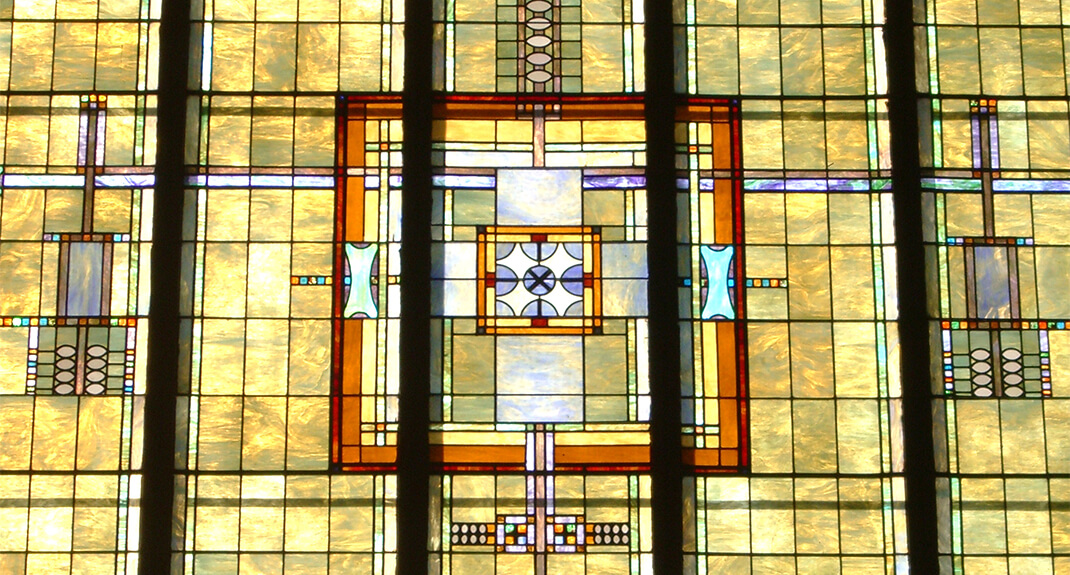 Stained Glass Windows
Produced by Mosaics Art Shops of Minneapolis, the large windows were inspired by earlier works of Louis C. Tiffany.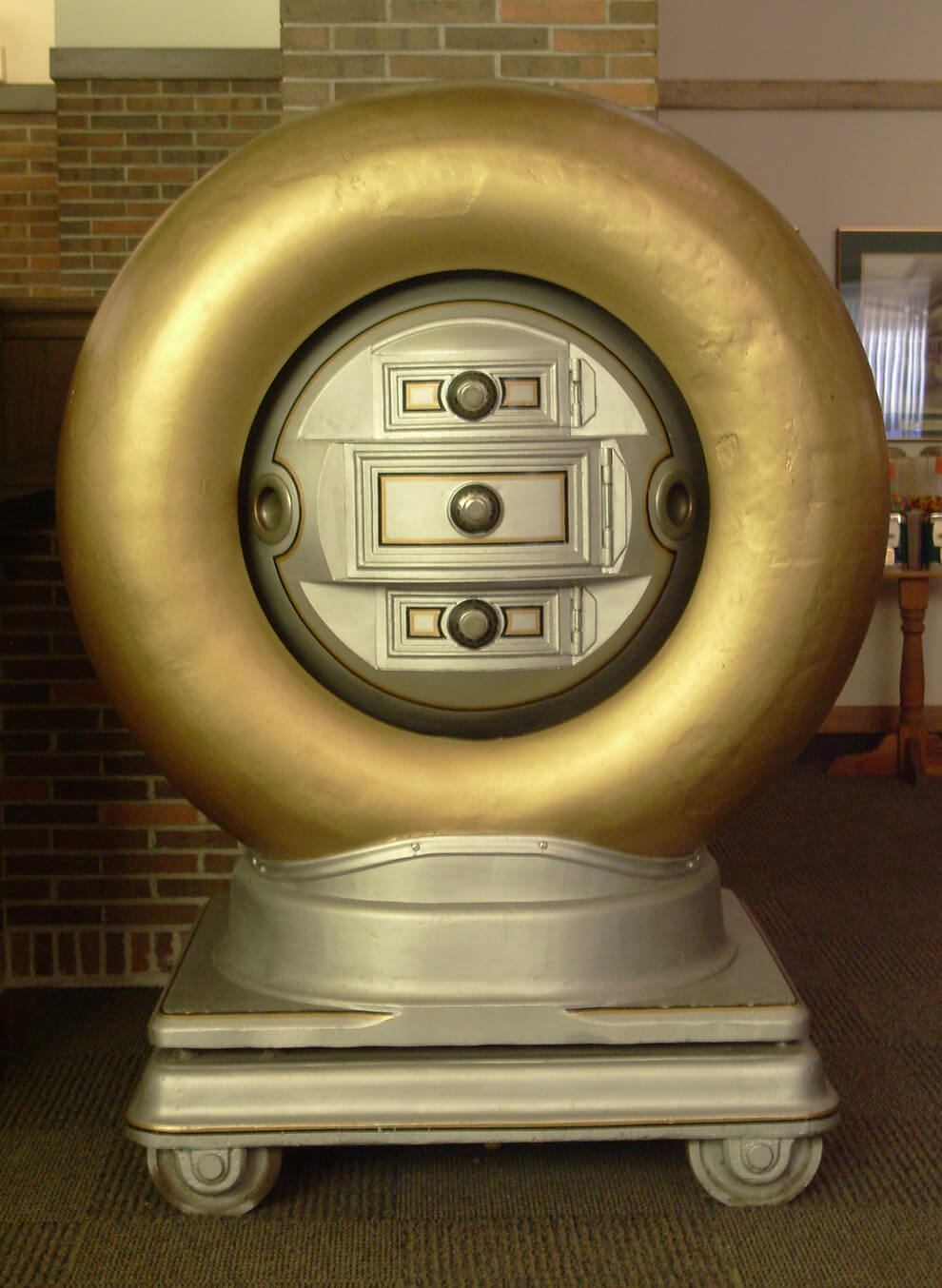 Original Bank Vault
Prominently displayed in our lobby is our original cash vault, which was used until the renovation in 1972. While it may appear portable, the ball-shaped unit weighs approximately 15 tons.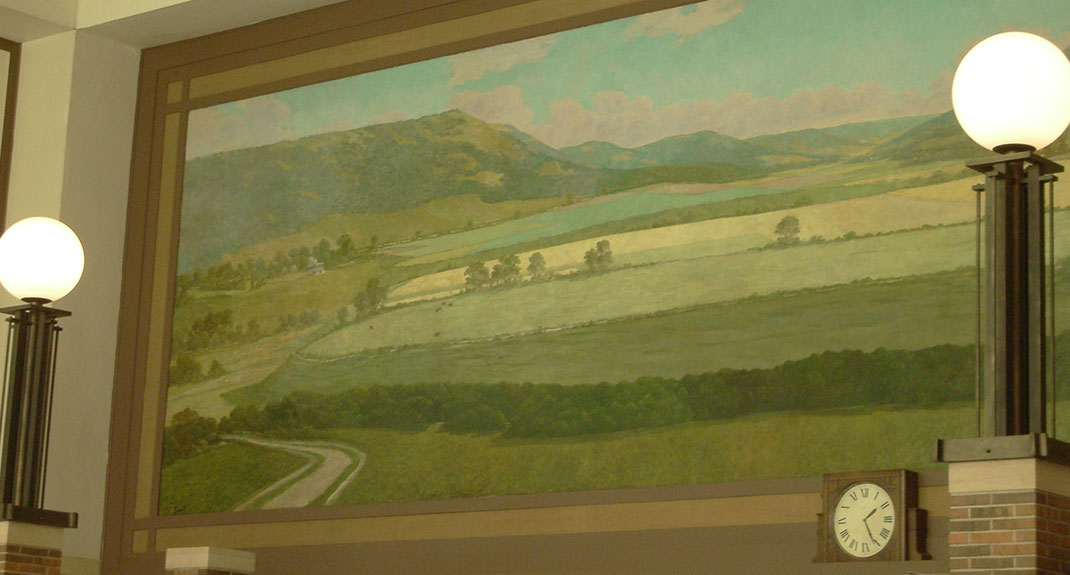 Mural
While the building originally had two murals painted by Albert Fleury, only one remains today on the Bank's north wall. It depicts the West Burns Valley area lying behind Winona's bluff-top landmark called Sugar Loaf.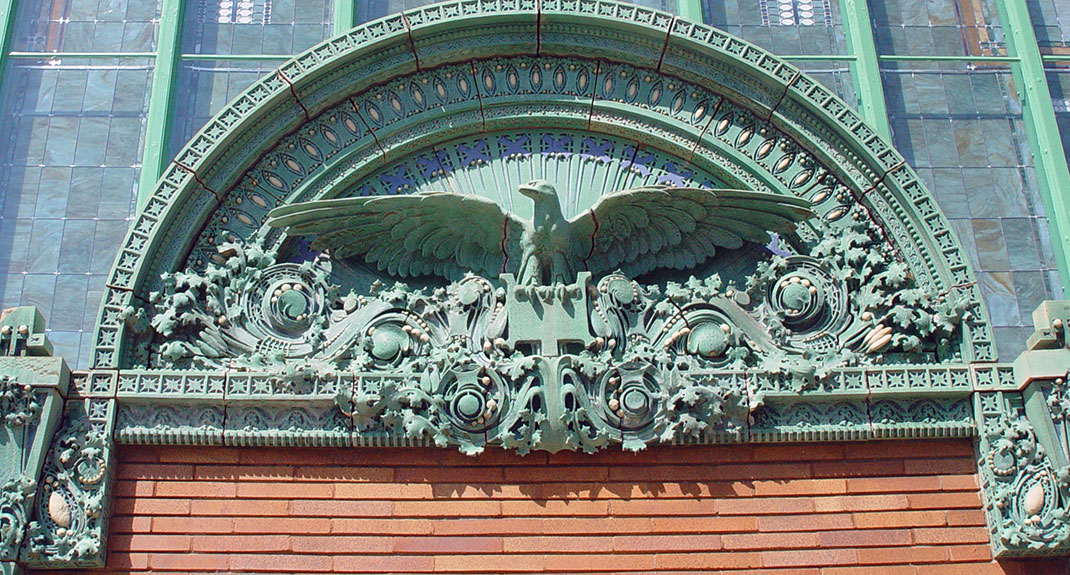 Terra Cotta Details
The building's exterior features extensive and unique terra cotta work, including a bald eagle above the front door entrance.
Stop by and visit our historical flagship location in person! If you'd like a tour or more information about the building, please ask one of our employees for details.