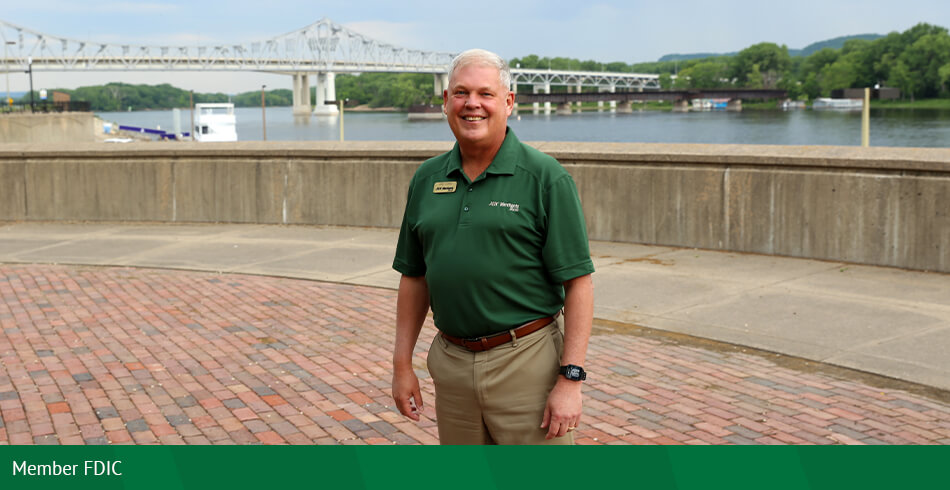 Company Update from CEO Greg Evans - August 2023
Early this month, I celebrated my 34th work anniversary with Merchants Bank. I can't believe it's been that long (or that I've become so old). I was 26 years old at the time and wasn't mature enough to think in terms of community banking as a "career." Community banking has proven to be a wonderful and rewarding profession. I'm extremely prideful and passionate about the work we do. It matters!
I joined the Bank because of the reputation and the articulated value system of the Company, the quality of its leaders and the people who recruited me, and the Bank's leadership commitment to the community. The opportunity to join Merchants brought me back to my hometown after being away for eight years. At the time, I never could have imagined that I would be with this great Company for this long.
Much has changed over the course of the past 34 years. The day I joined Merchants, there were almost 13,000 banks in the United States. Today, there are fewer than 4,200. Recent volatility in our industry will undoubtedly drive more consolidation. Our history of strength and stability, as impressive at is, doesn't offer a guarantee for a vibrant future. But I couldn't be more optimistic about our ability to grow and thrive. Why does Merchants continue to be among the survivors? For the same reasons as when I started…People. Values. Mission.
The Merchants team's focus on service and
our mission
to help our customers and communities realize hopes and dreams has fueled consistent and steady growth over the years. Our mission and values will remain constant, but the need to embrace and adapt to change has never been as important as it is today. Change is uncomfortable, but is not optional if we are to continue to be a driver of the economic vitality of this region.
In today's world, we know that to earn your continued trust and loyalty, we must provide exceptional personalized service and state-of-the-art digital solutions that deliver meaningful value for the financial management of your day-to-day life or your business. For that reason, we continue to invest in the education of our team, enabling them to be the best possible financial partner for you including being up-to-date on the latest
fraud and scams
to help you recognize suspicious situations.
On the
consumer side
, it's critical for us to devote significant financial resources to fraud tools and technology such as our card control apps for Merchants
debit cards
and
credit cards
, custom
alerts
and
credit monitoring
to aid you in keeping your financial information safe and secure.
On the
business side
, we continue to develop and deploy
treasury management
solutions to help move money faster…and safer with more robust
fraud mitigation tools
. Because of the significant increase in fraud affecting businesses of all sizes, within the last few months, we have helped dozens of long-time customers implement these tools for their businesses. Another area of high growth for us, because of the value-rich solution we offer, has been in
credit card processing
. And, we have also introduced new treasury management solutions in the form of Integrated Payables and Lockbox/E-Lockbox to help businesses process payables more securely. Any member of our
Commercial Banking
or
Treasury Management
teams would welcome the opportunity to discuss these solutions with you.
Please know that we don't take your business and loyalty for granted. We're not ignorant to the fact that you have dozens of choices when it comes to selecting your financial services partner. As a community bank, we remain fully committed to reinvesting the dollars entrusted to us by our depositors right here in our neighborhood by providing access to capital in the form of loans to help consumers and businesses realize hopes and dreams. In communities like the ones we have the privilege to serve, the presence of a strong community bank has never been more important.
Thank you for the trust and confidence you continue to place in Merchants. We will continue to work hard to earn it.